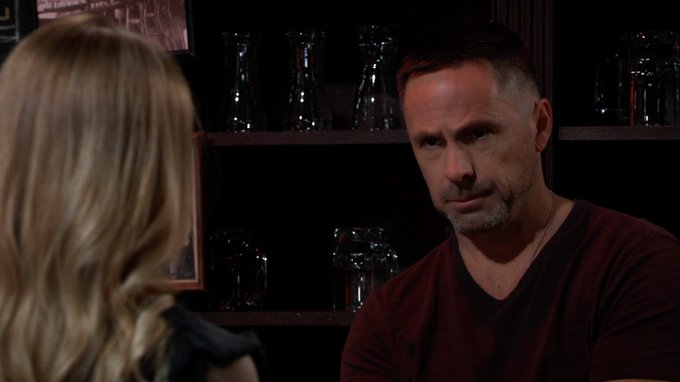 General Hospital fans know that Michael is doing the right thing surrounding himself with his family. They are there for him as much as he needs them to be, and he likes when they are there. This is about to be a time in his life he cannot even fathom. What will happen when his court date comes to light? What will happen when he stands in front of the judge and asks them to make sure that Nelle is in jail and that he is the one who needs his baby? What happens when they all gather to prove that they are the family that baby Wiley really needs in his life? We don't know, but we do know that he will be with his family, and they will not leave his side. Even Willow is there, and we know that Carly is someone who admires her a lot.
What's not to admire? She's got it all; and Carly recognizes a lot of herself in this young woman. She sees that she will do anything for her children, even when she finds out that her child is not her own child because hers died soon after birth and was replaced secretly with someone else's baby. She's not going to sit back and allow anyone to hurt a child or make that child a victim, and Carly loves that about her. She loves it, and she's proud of that, and she's not going to allow this moment in her own life to pass her by. Lucy got a call yesterday, and it might have been a pretty big deal. We don't know what she's going to do with this information, and there is nothing that can stop her from making the decision herself. She has some big things to plan in her life.
What's Happening on General Hospital
ABC to re-air episodes of #GeneralHospital's most glamorous charity event, Nurses Ball
https://t.co/56egjVujES

— TV Insider (@TVInsider) May 11, 2020
So pretty.
What's Next on General Hospital
"Where's Nelle?" #GH pic.twitter.com/RzfB11z58n

— General Hospital (@GeneralHospital) May 11, 2020
Sonny is in agony, and he doesn't know what to do about it. His father is getting worse. His son is hurting in so many ways. He was in love with Sasha, who had an affair with Chase. Now he is going to marry his friend Willow because it is the only thing that will protect anyone. But, we also hear that there will be some horrible situation at the wedding. Sasha will overdose, Chase will show and tell the truth about how they planned all of this so that Michael and Willow could get married and get the baby, and that he will marry Willow because he loves her, and that Michael will go after Sasha, his true love, who is really just in a bad place on her deathbed.
This will break his heart, and it will hurt everyone else, too. We cannot figure out what is going to come of this right now. Michael is about to find himself with all the support that he needs from his friends and his family, and he might be someone who needs it the most. Olivia, too, is upset. There are a few things in her own life that are not going her way, and she is not taking that information lightly. What will she do to make this right, and can she get what she's looking for and what she wants from this? We don't know, but we can assume that there is nothing that will stop her from going out of her way to get what she wants. It's too much.
Stay tuned for more General Hospital and be sure to check out TVOvermind daily for the latest General Hospital spoilers, news, and updates.
Tell us what's wrong with this post? How could we improve it? :)
Let us improve this post!