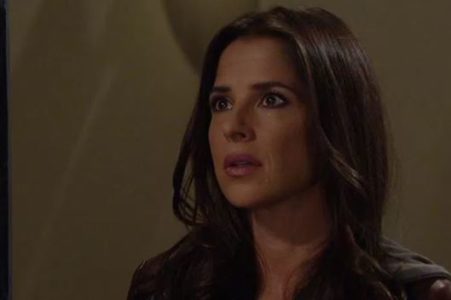 General Hospital fans would love to see a deeper look into Sam's mind. What she's going through right now seem like it might be enough to make anyone crazy. They are not in a situation right now in her marriage for her to understand fully what is going on, but we can't wait to see how this all turns out. There's so much that could happen, and we'd love to know how she feels about all of it. She has a man who is her husband begging her to just move on and make their lives good again.
And she has a man who looks just like her husband looked before he went missing several years ago and came back with a new face and some inconsistencies that made everyone a little hesitant to believe he was really Jason. He's begging her to give him a chance and be with him because he is the real Jason. She just went through a terrible health issue, her father went to prison, her aunts are horrible criminals, her step-son is going through some issues, and now this?
She can't be sure how she feels about all that's going on in her life right now, and we can't be sure we blame her at all. There seems to be nothing we can do to help with this situation at all, and we are positive there is no chance she is feeling good about her life. But we'd still like to see more of her mindset.
Tell us what's wrong with this post? How could we improve it? :)
Let us improve this post!