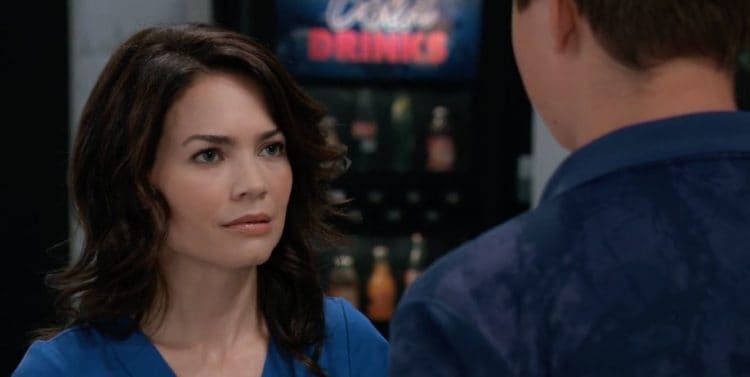 General Hospital fans do worry that there are some uglier than usual things going on. We got to see Cameron start his week off on the best note. He was helpful to his parents, he was kind and good, and he did seem like he was ready to get back to being the good kid we know he is, but then he snapped. He was in the middle of being awesome and he lost it, and then he became confrontational and ugly and unhappy, and things seem to be going back to where they are with one another. There is nothing else we can do to help this situation seem like it's getting better, but we do have some hope for him given the fact that he did seem to start the week off on a good note. This means we have some hope for him and his ability to get back to his old self.
Alexis brought some grim news with her. Julian is still doing what he can to make sure the people in his life know that he will defend his own choices left and right, and everyone else is going to make it happen. Epiphany has some grim news, too, but she's an interesting character that we cannot help but wonder about. She's got some stuff on her own mind right now, and it seems to us like she has to get it together before people begin to want to see her in a better light. She's a mess, and we get that. But, what about everyone else? There's a lot going on right now, and it's becoming something of a situation with them. For now, though, we can see things unfold in a manner that makes us seem like things might have a chance of improving at some point.
What's Happening on General Hospital
Today you'll lean about Jax and Hayden's true objective. @IngoRademacher @RebeccaBudig @GeneralHospital #GH

— Frank Valentini (@valentinifrank) September 3, 2019
We thought we might see something like this.
What's Next on General Hospital
"I'm afraid [Kim] has feelings for my husband." #GH pic.twitter.com/zWrOaRQ1wt

— General Hospital (@GeneralHospital) September 3, 2019
Alexis is not the kind of woman who likes to let things go. She's not a fan of letting the world turn around at her expense, and she is not a fan of things not working out in her favor. She's got a lot on her mind and on her plate, and she is not about to let things happen as they are happening. She is not happy with something that is going on right now, and it's got her wondering more than she might like to. She will end up feeling more than a little suspicious about something that is going on in her life, and it will not end well for anyone. Can she get to the bottom of this, or is there more to this than we can see and recognize in our own lives? We don't really know, and it's not to say for us in this manner of speaking.
Julian is going to turn his defensiveness into something encouraging, and we cannot help but wonder if there is something to this. Is he doing this because it helps him get the attention off of him and what he is looking to do in his own life for once? Or is he really feeling this way? We never really can tell with him, to be quite honest. Elizabeth, on the other hand, is someone who is doing all she can to keep her life together. It's not going well for her, though. She's struggling in a way that we cannot even begin to fathom. She's got to keep it together, but she is struggling to do so.
Stay tuned for more General Hospital and be sure to check out TVOvermind daily for the latest General Hospital spoilers, news, and updates.