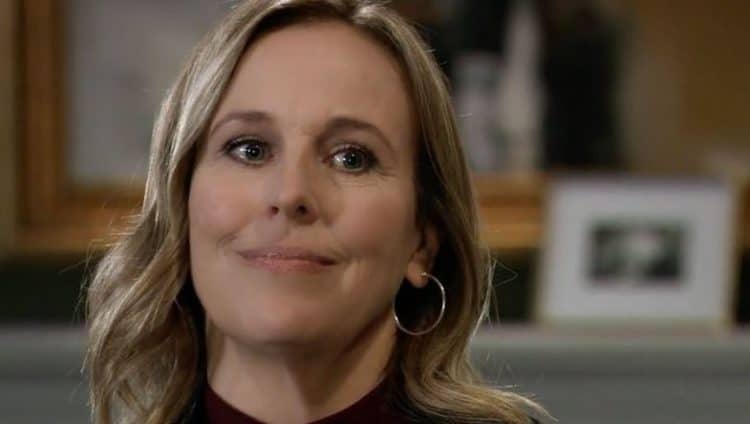 General Hospital fans aren't sure how to focus on anything other than what is good in life at the moment, but we can help them. Cameron, as we know, has been very adamant that there is nothing good coming from this situation in which there is no way out. While stuck right in the middle of all of this, there is no option left but to make some very important choices and take some very big chances with all that's happening. It might not be the best option, but there's nothing else to do at this point. Above all that is the fact that Drew is still being pushed away by his son. Oscar doesn't want him around at this point, and it's been really upsetting for him. He's not sure he can handle that information right now, but he's not sure what to do as a dad to this boy at this point.
Maxie is worried about Nina. She can feel that something is not right with her sister-in-law. Things have been interesting in a bad way for a long time, but she's not sure they can get past this. Nina is not someone Maxie has always been really friendly with, to be honest, but she's there for her now that Nathan is gone and they have nothing left. Nina is so focused on finding her daughter, though, that they can't even get past what is happening. Maxie is very worried about this, and she's not happy that things aren't working for her. She wants to protect Nina, but she knows that she can't do that without help. She might think that Valentin is the best thing for Nina right now, but she might think that he is the biggest mistake she ever made, too.
What's Happening on General Hospital
Oscar is out of hope and Kiki's heart is broken. @itsgarrentho @HayleyErin @GeneralHospital #GH55

— Frank Valentini (@valentinifrank) October 2, 2018
Is there a real reason none of these young people can get any sort of reprieve from the horrible things that go on in their lives? Is there a reason they can't seem to catch a break at all, or is that just us? We know things are looking bad for them, but we'd love to see that change.
What's Next on General Hospital
"I'm a cancer survivor. I'm gonna make sure Oscar is too." #GH55 pic.twitter.com/hU0eElgMmo

— General Hospital (@GeneralHospital) October 3, 2018
Sonny is tired of Ava. The woman is a hot mess who simply cannot get her life in order. She's not one to make good decisions at all, and she's not being very good about much. She's struggling to keep it together, and she's got a lot on her plate right now that might make her a miserable situation for all of them. She's currently mad at the world, including her daughter and Griffin, and she's working hard to make everyone else miserable, too. For now, though, Sonny is done with her. He's about tired of her attitude and all that she has to bring to the table, and she's not going to sit back and allow anymore of this. She's unhappy with all of it, and she's letting him know. However, he's putting her right in her place. And she won't like it at all.
Then Kristina is going to step in. She's home, and she's looking to do something to help her father with all that's going on in his life. She's not so naïve that she doesn't recognize the fact that things don't look good for him, and she's all over that. She will work hard to ensure that he can keep his situation under control, but we have a feeling that she's about to face some serious consequences of her own in the meantime. But how can she get over that with all that's happening in their lives right now with her stepmom, her brother, and her grandfather? There's so much drama, and she can't take care of all of it for her dad.
Stay tuned for more General Hospital and be sure to check out TVOvermind daily for the latest General Hospital spoilers, news, and updates.