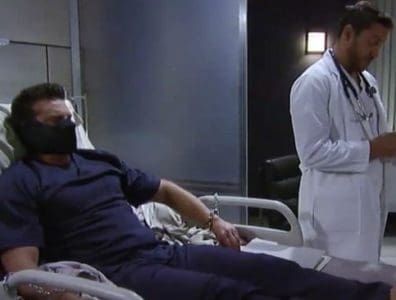 General Hospital fans know Patient Six is out and ready to move on with his life, and it turns out he's going to get a little help from a priest and from Griffin. As he is in the process of making his great escape, a priest is going to notice that the man has no shoes. He wants to help him find some shoes and some help, so he invites him into the church to get some shoes. It's something that Patient Six is happy to allow, but he has to hide as Griffin walks into the situation.
Griffin knows things are happening, but he doesn't know what is going on. He has no idea that this man is a patient at the clinic, and he has no idea that this is the man that Ava let go and is in trouble for helping. He merely sees a man who needs a little bit of help with his phone, and he offers it to him because he's a good guy. So Patient Six is going to make a call with his phone.
It turns out that things are about to make a big change. It turns out that Patient Six is about to make the phone call that will confuse us all. He's going to call Jason. He's awake, and he's going to get a call, and it's going to make everything different. But we don't know what the patient has to say or how this is going to go.
Tell us what's wrong with this post? How could we improve it? :)
Let us improve this post!