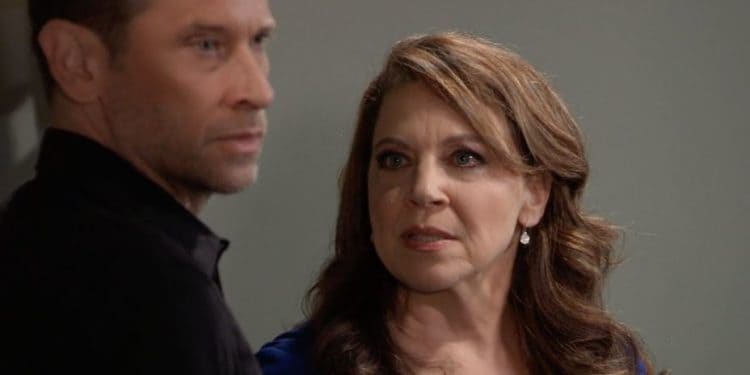 General Hospital fans were so happy to see Carly and Sonny renew their vows. They have had nothing but a horrible time in their lives. They have had nothing but terrible year after terrible year. It all began when their son, Morgan, went nuts. They didn't know it at the time, but Ava switched out his meds with placebos. Not because she wanted him to die, of course. She only wanted her daughter out of his life, and she felt that this was the way to make that happen. Of course, we also know that so many other things can happen in the meantime. For example, we know that there is a lot going on with their other son, too, after he got involved with a woman who deliberately drugged his father to make him think he slept with her, to make his mother think that he cheated so that they would end their marriage.
Then she tricked him into getting pregnant, tried to have his mother locked up — and succeeded with that for months after she was able to convince the law she pushed a pregnant Nelle down the stairs — then she tried to kill him, told him his baby died, and then gave the baby to Brad and Lucas, who are hiding him in plain sight. It's been nothing but horror after horror, then with the entire DOD thing, so this is a day we cannot be happier about. They are having a baby, a very sick baby, but they will not allow any of this to get in the way of their love for one another, and their commitment to be together, to be happy, and to face adversity right in the eye and give it a wink. We love them, so much. And we are so happy.
What's Happening on General Hospital
.@cher has nothing on @gatitweets. #GH pic.twitter.com/somKztTaGo

— General Hospital (@GeneralHospital) August 27, 2019
You go, girl.
What's Next on General Hospital
"We're in unfamiliar territory." #GH pic.twitter.com/ylVpQdOYiT

— General Hospital (@GeneralHospital) August 26, 2019
Curtis is nothing if not a man who gets things done. He is someone who takes his job very seriously. He has never really been a man who doesn't get it figured out, who doesn't get the job done, and who doesn't take his role in life as seriously as possible, and Valentin recognizes that in him. He sees that things will be what they are for this man, and he sees that there are some things that will never change no matter how much people might want them to change. There are things that make some sense, and there are things that don't make much sense. However, we also know that there are a few things going on we don't really get. One of those things is the private life Valentin lives that his wife knows nothing about. Nina is a smart woman, and she should know better, but she never seems to be able to figure things out. She's always struggling.
Right now, he is going to offer money to Curtis to help him with a few things. He has a private matter he needs figured out, and he feels that Curtis is going to be the man to ask. So, he's asking with a large sum of money and a big please, and he's hoping this information doesn't get out. Will he keep it to himself? Is the money the right amount to keep this kind of secret from people? We don't know, and we don't care; we just want to know if it will work.
Stay tuned for more General Hospital and be sure to check out TVOvermind daily for the latest General Hospital spoilers, news, and updates.