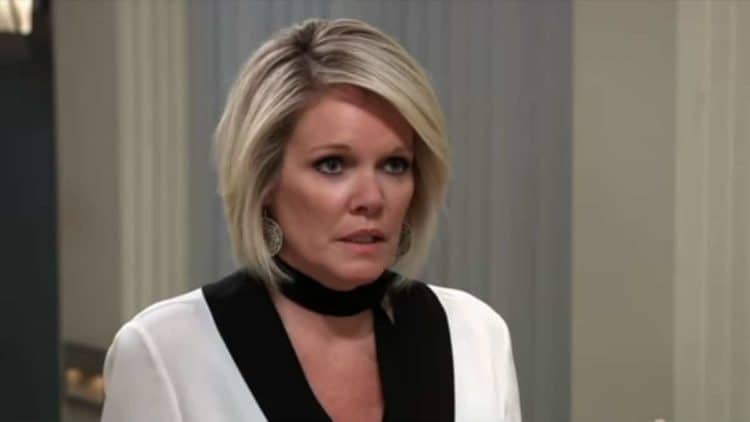 General Hospital fans know that one woman on the show in particular is a bit of a mess. Her name is Ava, and she's never one to make some good choices. She's never one to make a good choice, if we are being completely honest. She's a woman who is currently struggling harder than anyone we know with the death of her daughter by the hands of her boyfriend who wasn't really her boyfriend but the man's twin brother with an evil personality. Wow. That was a mouthful, and we aren't even sure it makes sense. But, she's hurting. Still. Things in her life are not good, and we think that many of her issues are because she lets men get to her too much. So, we are going to dig deep into her life and find out which of the men she's been with have had the most impact on her life, good or bad. Do you agree?
Morgan
At the beginning of all of her biggest pains and problems in life is Morgan. He is the son of Carly and Sonny Corinthos, and he was much too young for her. He found love with Ava, and they were happy together for a time. He had some health issues, mental health issues, and they had a way with one another that was good, but so wrong. They didn't make much sense, and it did not take him all that long to realize this. In fact, she realized it, too, but she didn't see what would happen next. What happened next is that they decided to call it quits — maybe her one-night stand with his father had a bit to do with it — and he met another woman his own age. That woman was Kiki, who was his ex-girlfriend and Ava's daughter. Ava lost her mind when he went back to her and they were happy again, and she didn't like it. She wanted to do anything she could to keep them apart, and she ended up being indirectly responsible for his own death as a result.
Dr. Griffin
We are sure that this was another horrible and impactful relationship that Ava had. We know this because she began dating him after her daughter dated him, and it was a horrible situation. She cannot stop dating men her daughter was with first, and it's been ugly since the start. She decided to get involved with him behind Kiki's back, and it did not end well for anyone. Her daughter was not ready to forgive her for this after all she'd already forgiven her for. She was done with it. She was tired of it. She wasn't having anymore of it and her mother knew it. She knew that being with Griffin was wrong, and we still couldn't figure out what she was doing with him knowing that her daughter was with him first. It was a horrible situation that she caused to go down, and she might even be indirectly responsible for Kiki's death as a result of this one, too. There was just so much animosity here with all of this. We cannot even handle it anymore.
"Kevin" Ryan
We all know how this one went down, and it was not in a good place. We know that they didn't have the best start. Kevin was married to Laura, and he began treating her poorly. He was not being very nice. He seemed to have changed a lot, and things were not looking at all good for him. In fact, things were looking bad for Laura, too. He began spending more and more time with Ava, who knew that he was a married man. She allowed this to happen, though. She let him in. She let him sleep with her. She let herself think that she would take him from another woman and be with him herself, and she was a mess because of it. She was happy, and she didn't care who she was hurting.
What she did not know is that he was not Kevin, but Kevin's evil twin bother Ryan, who everyone thought was dead because Kevin told them he was dead when he was, in fact, locked up at the bottom of the hospital where Kevin had been caring for him. He took down his brother, took over his life, and he even killed Ava's daughter, Kiki, right under her nose. It was one of the ugliest, most horrific situations, and we think that she feels like this is all her fault. Her choice in this particular man was so bad that it caused her to ruin lives, take lives, and to go a little mad with the pain and the suffering she caused herself. It was ugly, and she knew it was all wrong.