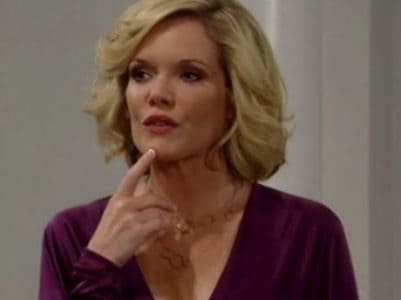 General Hospital fans know that Ava is her own worst critic. Ever since her situation last year in the fire when she was protecting herself from Sonny and Carly — whom we believe would have killed her for the role she played in the death of their beloved son — she's been second-guessing everything in her life. She's getting better, but her confidence level is gone. Her life has changed, she's not herself. Things are changing for her too much for her to appreciate, and she's not in a good place. But she's also making friends with people like Nelle despite knowing better.
She can't get her life in order to justify much at this point, and she's using these situations to her advantage. She really just needs to get her life in order and get things together, but she can't. And she's got herself in a situation right now she cannot handle. She's wondering why Griffin is off, but he overheard her having a conversation with Nelle that implicated Ava wasn't doing the right thing.
Nelle is also making her miserable, and she's not sure what to do. Right now she's torn between doing the right thing and not doing anything at all, and she's not sure where to go with this. But the problem she really faces is herself. If she can make good decisions, will she like herself more? Will she want to be a better person? Does she know what she wants in life at all at this point?