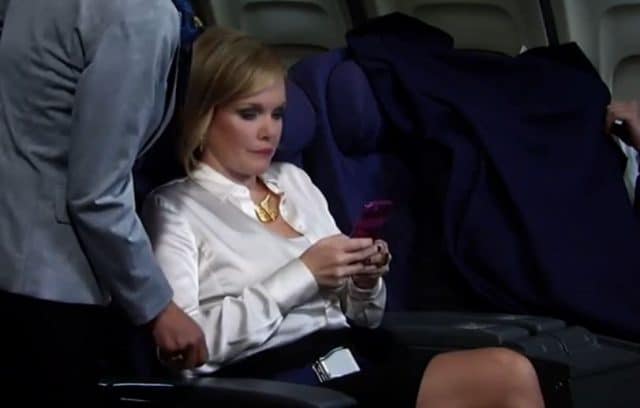 Things simply are not looking good for Finn, and we don't know how it will end on General Hospital. It's a situation that is not lending itself to turning out very fair, but it might be something we can see changing in the near future. Right now, though, Finn needs to watch out and hope that Obrecht finds a way to stop blaming Finn and point the evidence elsewhere. In other news, it seems that Ava is gone. She's not around, but that does not mean she's not around people she does not know. She's simply no longer in Port Charles. Will she be surprised when she sees a face she recognizes, or will she be happy since that is the reason she decided to take to the road in the first place?
This is a face she recognizes, but we actually have no idea if it is a friendly one or if it is one that is not friendly. Can she handle what is happening in her life right now, or will she find that what she planned on occurring is not going to happen no matter how she tries to make sure that it does? Liz is working with Carly right now, but she's not liking what is happening. Carly is able to provide her with some information that is haunting her. She's not sure what to do with this information, and we are going to see that Liz is now in a situation in which she has to make some decisions that she might not be so comfortable making.
Sonny is going to be there for Dante and Lulu. They need him, and he has the answers that they might be looking for. He's not going to back down now that they need him more than they've ever needed someone in the past, but we do wonder if he is going to be able to give them the full attention that they deserve with everything else that is going on in his life at the moment. We can hope so, but there is no guarantee in a situation such as this one.
Tell us what's wrong with this post? How could we improve it? :)
Let us improve this post!