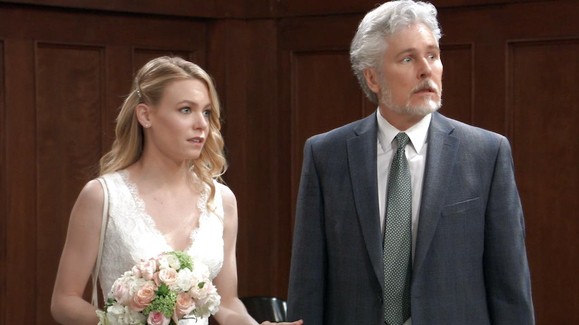 General Hospital fans know that this is a hard week for Sonny. He's not sure what is going on in many aspects of his life, but he's feeling a bit suspicious this week. He's had a conversation with Jordan in which she issued him a warning that he did need to hear about, but did he listen to her? Did this change his point of view and his thoughts on everything? And how much of what he is feeling about Cyrus and all of this right now is stemming from the fact that he is struggling with his father and his own mental decline right now? We've been watching Mike get worse and worse, and we know that it's taking the biggest toll on Sonny, who cannot do anything for him. There is rarely nothing that he can do to make things right or better, but this is absolutely one of those times he's struggling worse than ever with things. It's hard on him, and he knows it's not getting easier.
Meanwhile, we also know that Liz is being very candid with Jason, and he might not be sure why she's decided to come to him with all of this. We will, however, give him credit for listening to her and getting this out in the open with her so that she can feel better about things, but we don't know that he will listen to her. Diane took a meeting with Carly, and we don't see this going well. She knows that Carly will be questioned, and she knows her history is not the most favorable in terms of what is going on and how she can help her son to gain custody of his own son. This is going to be a problem.
What's Happening on General Hospital
Without @GeneralHospital I'd still be flipping burgers at my dad's burger joint. I am eternally grateful to GH and all the folks I learned so much from on that show. Check out this really cool special tomorrow night #StoryofSoaps May 19 at 8|7c on ABC. #BlackieParish pic.twitter.com/DDgGkb4yP9

— John Stamos (@JohnStamos) May 18, 2020
This is pretty serious stuff.
What's Next on General Hospital
"Of all the slimy, deceitful, underhanded moves… " #GH pic.twitter.com/zUKsGBkIeI

— General Hospital (@GeneralHospital) May 18, 2020
Carly is definitely not in a good place right now. We thought this might happen, and it is happening. Her credibility is being questioned. She's doing all she can to help her son in this time of need as he is trying to get his own son from the mother who allowed him to be thought of as dead and traded him off to another family just to hurt him, and her own background is being questioned. But, we saw this coming. We all know that Carly has a long history of some mental health issues, some crazy moments, and their family was known for being big in the mob world, which is riddled with crime and with some ugly things. It's not a good look, and they are questioning whether or not she is a credible witness for her son and for this baby and this family. This is going to kill her in the moment.
On the other side of things, Michael has to tell the judge that his own actions were for the very best of everything. He has to defend himself in the middle of this, and that is not fair. Nelle did terrible, horrible things to their family, and he had to do what he had to do to keep them safe and to protect his own son. He did the right things from the right place in his heart, and having all of that questioned is hard on him in a way that doesn't work for any of us. It's not good news, it's not going to work, and we don't know how well this will play out. Sonny, on the other hand, is demanding answers, and he will get them.
Stay tuned for more General Hospital and be sure to check out TVOvermind daily for the latest General Hospital spoilers, news, and updates.