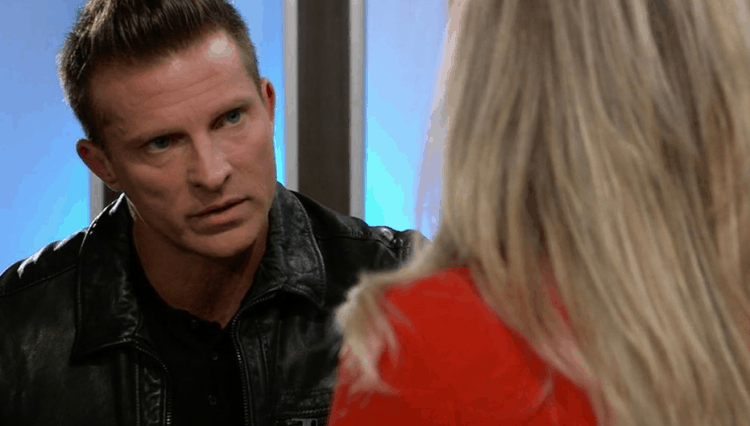 General Hospital fans are not about to allow things to go without a second look. We all saw that Laura visited Franco to discuss this situation, but what does she really think? Is her feeling for her husband still going to allow her to make bad decisions about what is true and what is not? Franco did not do this, and he knows it. He knows this is something he's been framed for, and hearing the Kevin said he had these tendencies and that he is guilty of this only makes it clear to Franco that something is going on with Kevin and it's not right. But can he convince Kevin's wife that this is true? She knows he's having an affair with Ava and that he's not been himself lately, but will she really begin to see the bigger picture that perhaps this Kevin is not her husband after all? We know this has to be getting close, right?
And then there was Peter and Maxie, who were out when they bumped into Nina. She's a mess regularly, and we aren't sure how she is going to feel about Maxie spending so much time with the man who ended up being her brother's half-brother and who lied and did all these horrible things to them before he was really aware of what was going on in his own life. She's a woman who is not easily swayed to forget what her life is like, and to make amends where she feels things are not going to happen naturally, but we think that things will end up better for everyone involved. For the moment, however, we are just sitting here wondering what we can do to help her find happiness.
What's Happening on General Hospital
#MondayMystery: Watch #GH all week and see if you can spot this duo. 😳 Answer Friday! And remember, be specific. @GeneralHospital #GH55 pic.twitter.com/FeKY3QJ8vo

— Frank Valentini (@valentinifrank) February 11, 2019
We love a good mystery, so where to do you think that you might find this gem?
What's Next on General Hospital
https://twitter.com/GeneralHospital/status/1094967468659863558?ref_src=twsrc%5Etfw
Kristina is feeling a bit jealous at the moment, and it's not a good look for her. She's having so many other troubles in her life with her friends and her family, and this is not something that will work to make her life better. But, no one is feeling all that sympathetic towards her at the moment, and that's all there is to it. We don't know what might happen otherwise, but this might be something we can look into with a bit more ease. There's something else going on, too. Finn and Robert are working together in an attempt to figure out what is going on while Sam is working Shiloh and pretending to be someone she is not really in real life. She's working every angle she can find, and she will take him down and get to the bottom of all of this if it is the last thing she does.
Michael is in a much better place than he's been — he's trying so hard every single day — and it turns out that Nelle is going to do all she can to make sure this goes a different way for him. She's not looking to see him feel good about his life, so she's going to reach out to him so she can ensure that he is not able to get her out of his mind. She's so bad to him, and he cannot get away from her no matter what he does. She's a wreck, and she's still trying to bring him down.
Stay tuned for more General Hospital and be sure to check out TVOvermind daily for the latest General Hospital spoilers, news, and updates.
Tell us what's wrong with this post? How could we improve it? :)
Let us improve this post!