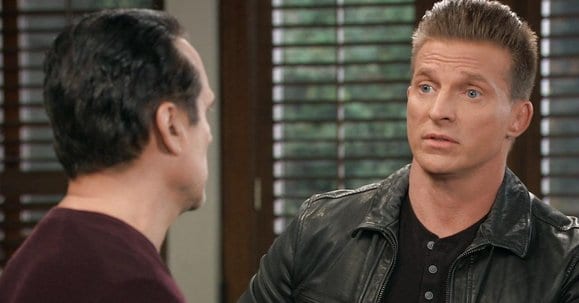 General Hospital fans are not sure how to feel being — yet again — the only show on the air that did not air a new episode yesterday, on New Year's Eve. It was an encore of a show that occurred almost two years ago on the same week, and no one was happy to get no more answers, to see if Carly really did make it her mission in life to tell her husband the truth after hiding it from him for so long, and we don't know how much longer we can wait for some good news. But, we can say this; we did notice that the same level of drama is still here after all these years. There is very little that will be done to make this better, and there is very little that can be done to change this. There's a lot that never changes, just the people and the day.
Everyone is miserable, and we watched them go off into the year on Monday with a lot of speculation. Jason is not happy that Sonny seems to be up to no good, and he made it a point to question the motives behind his actions. We all know that Sonny is not a fan of having anyone say this, do this, or test his feelings and emotions right now, and it's a problem for everyone involved. Carly met with Jax, and we also know that Nina was put on notice. Now we are just sitting here waiting for the new year to arrive and waiting for the first new show of 2020 to appear so that we can see if there will be a new trend of peace and happiness that comes with the brand-new year. We don't know, of course, but it does seem likely.
What's Happening on General Hospital
ICYMI: GH Production Designer Jennifer Elliott Gives The Inside Scoop On The Renovation Of The Iconic Quartermaine Mansion https://t.co/CN2iy9DfLw @GeneralHospital

— Soap Opera Digest (@SoapDigest) December 30, 2019
Who doesn't love a good renovation?
What's Next on General Hospital
"Brace yourself for maximum impact!" #GH pic.twitter.com/FV1IIiKzak

— General Hospital (@GeneralHospital) December 26, 2019
Happy New Year, Port Charles fans. You know that you are the only show that doesn't get two days of show this week, and that is always a bit of a drag. However, this is one of those things that happens on ABC this week because they are big on sports coverage and it is college bowl game season. That means that we are watching teams play for their spot in the top 2 so that they can meet in the NCAA playoff game for the national championship title — which we all know will involve an SEC team (because really, how often does it not involve at least one SEC team?) and probably Clemson. Sorry, my team isn't in it so I haven't been paying that much attention.
Either way, there is not a new show today, but there will be one tomorrow. It's been a while, we know. Monday was a new episode, but today and yesterday were not, and that's always hard on all of us. Fortunately, you have other options. Watch sports. Get out of the house and exercise or do something fun with your family. Binge watch something amazing on Netflix (the second season of "You" is out now) and do something fun with your life. It is the first day of a brand new year, which means you can do anything you want and make it count. You should, too. There is so much to be thankful for this year, and there is so much that we are hoping we can all accomplish, so get started on your goals and on your plans, and see them through. Good luck.
Stay tuned for more General Hospital and be sure to check out TVOvermind daily for the latest General Hospital spoilers, news, and updates.