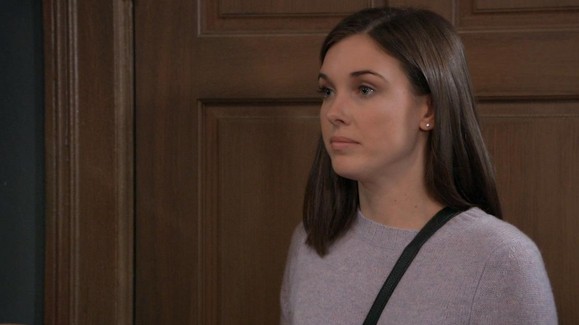 General Hospital fans aren't sure how to figure out what is going on other than to focus on Michael. He's finally going to find some happiness in his life after the worst years of his life. From losing his brother to seeing his family go through what they went through for causing all the problems that were made even worse by him being with Nelle and not believing his mother that she was totally crazy to the loss of his son to finding out that his son never died and that he's been with him almost daily all this time — it's been a lot to process. But, he is happy that he is getting a second chance to find happiness in his life, and he will not take that for granted. However, Nelle is not going to make a second of this easy on anyone, and that's just how she is. She's difficult, and she will continue to be that way.
Carly was not happy at all, and she has a warning to deliver that she will not stand by and allow anything like this to ever happen to her family again. She's got so many things on her mind that might not be easy for her, but she is beyond happy that her son got his own son back and that he is not dead. She's so happy that she is a grandmother after all, and she is not about to let another person come between her and her family. She's got a lot to handle, and she's got a lot to cover, and that is one thing that will not change. Sam is not happy, either, and she's about to let her dad know that she's furious with him and his own actions in all of this, too.
What's Happening on General Hospital
Who knew Monica was so particular about the art of taking selfies? @1SteveBurton @duelly87 @lesliecharleson #BehindtheScenes #GH pic.twitter.com/BbnD2wlmxx

— General Hospital (@GeneralHospital) February 24, 2020
How cute is this?
What's Next on General Hospital
"You are never going to see Wiley again." #GH pic.twitter.com/eQ6PspvLzb

— General Hospital (@GeneralHospital) February 24, 2020
Jordan is currently doing all she can to make things right in the world, but there is only so much she can do that will work. Her current helpful method is simply to keep things open and honest with Laura as she works on healing and getting to a better place. Right now, she's got so much on her mind, but she's going to get her up to speed and share with her all that is going on around Port Charles so that she is in the know and things are looking good for her. She's still got a long road ahead of her, but we feel that she can handle things as they are coming along in her own world. There's a lot she can do from where she is when she is aware of what is going on in her life. Nikolas has something to say to Liz, and he's opening up to her. She's been working so hard to keep Willow calm and happy since finding out the truth about her own birth son.
Now she's listening as Nik has some things to say to her, and we have to wonder if this is about all that is going on and all that is happening to them in the moment. Is there anything that she can do and anything that she can handle in her own life that will help him? We aren't sure she's ready for this, though, but we also know that there is Joss getting some surprise information today, too, and that might change a few things around this town and with these people.
Stay tuned for more General Hospital and be sure to check out TVOvermind daily for the latest General Hospital spoilers, news, and updates.