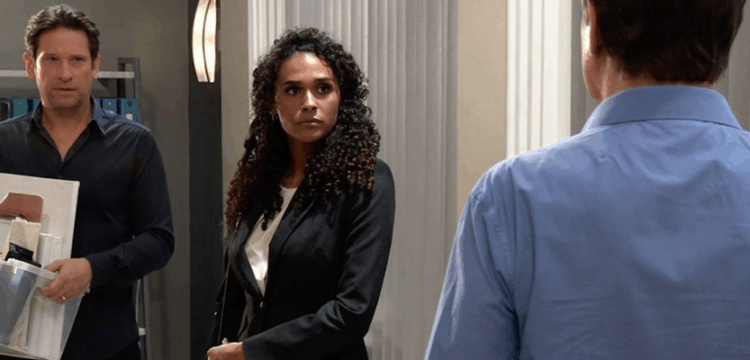 General Hospital fans watched a hard week last week. Everyone was a mess when there was so much going on with Kristina. Sam watched them drug her sister and put her in a sleep the day of her initiation, and she had to call for help. She knew that things were no longer in her power, and she knew that everything was going to fall apart in the meantime. But she knew that Jason would help her out, and he did. He got her sister out of there, and he's managed to get her to help. They are all hiding her, Sam is trying to take her place, and she is working hard to make sure that Shiloh doesn't get his way with her. She's playing him, getting a good response from him, and knowingly putting herself into some serious danger.
Meanwhile, Brad lied to Jason and Jason is more than a little upset. Brad needs to watch his back and move on from this in a quick manner, but we know he will not do that. However, the most upsetting situation of the week was the realization that Oscar will not live much longer. His tumor is taking his life, and it's working quickly. His mother and his father are struggling hard with the knowledge, and everyone is a mess because of it. Joss is especially unhappy knowing that her very best friend in the world will soon be dead, and she's not sure how to handle that. It's a tough situation for a young girl to live with, and everyone is mourning. Franco is working hard to be there for Drew, and we cannot handle watching this without feeling heartbroken and upset by all of it. Dying children kill us.
What's Happening on General Hospital
🎈Please help us wish @WilliamdeVry1 a very #HappyBirthday! 🎂🎁 #GH pic.twitter.com/LpSJB0HSSe

— General Hospital (@GeneralHospital) April 20, 2019
We will wish a happy birthday to the one and only Julian.
What's Next on General Hospital
"That is how it's done." #GH pic.twitter.com/haO0qt6zSv

— General Hospital (@GeneralHospital) April 15, 2019
We have heard so many conflicting stories, reports, and issues right now, and we cannot decide what we think might happen. Will Oscar really die right now? Will this be his final week? We have heard very little about it and what it is that might just happen to him, but we haven't heard that he will die or that he is leaving. At least nothing confirmed at this point. However, it's obvious to us that his end is very near and his body and brain cannot fight his tumor much longer. But, we will he die, or will there be a miracle that will save his life? We don't know. We have a suspicion that there will be something that saves his life, but we are afraid to say it if it's not true. What we will say is that we hope going into this week that something happens that will save his life.
Meanwhile, we also have a feeling that Shiloh is not falling for Sam's game as much as she is. She might think that she is not getting herself into more trouble, but we disagree. We think there is a big chance here that she is doing just that, and we do not make that statement lightly. He's shown us he is sneaky and underhanded through and through, and we think that this is another of his games. We think he knows Sam is not on his side, an we think that he is about to bring it down on her in a way that doesn't make much sense or make anyone feel good. Will this work?
Stay tuned for more General Hospital and be sure to check out TVOvermind daily for the latest General Hospital spoilers, news, and updates.