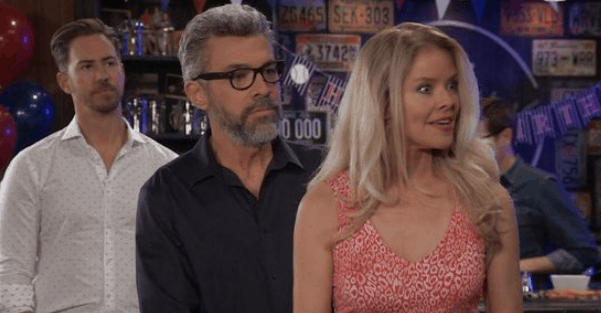 General Hospital fans know Michael's life has been difficult lately. He's going through so much. Ever since his brother, Morgan, was killed, his life has turned upside down. He's been in the middle of a crushing heartbreak for years, and what happened with Nelle still weighs on him. He feels responsible for not listening to the warnings his mother and father gave him about her. He feels responsible for what happened to them, their marriage, and his mother's time in the hospital for her mental condition that was not present at the time. He is the reason for all of this, and he still thinks that his baby is dead after all that happened. His life has not been easy, but he is trying. He is trying to put the past in the past and move on, and his visit to his father shows us that he is serious about all of it. He's serious about making the changes he needs to make in his life, and he will continue to do that as best he can.
Then there is Jason, who has learned something that might just change a few things. But, will he share what he has learned? Or, will he keep it to himself? We might be inclined to feel that he would share this with at least Sam or Sonny, but they are both going through so much right now, and he might not want to burden them with it. Will he tell Carly? Will he allow her to rest her mind of the many things going through it at the moment? We cannot be sure, but we do know he is going to learn something that will change the game — but probably only if he shares.
What's Happening on General Hospital
Peter's feet are put to the fire today, West Coast. Does he have a responsibility to stop Lulu's investigation before it goes too far?
A tense, new #GH starts RIGHT NOW on ABC! @wesramsey pic.twitter.com/aMfQ40g6nM

— General Hospital (@GeneralHospital) June 18, 2019
We have to admit we are a bit worried for him.
What's Next on General Hospital
This summer is bound to be hotter than ever. ☀️#GH pic.twitter.com/LoTjlGCIR4

— General Hospital (@GeneralHospital) June 17, 2019
Carly has some questions, and they are all aimed at Jason. Does she know what he knows, and does she have a clue what is going on in his life? Carly has so many questions for him, and we don't know yet if she's asking because she is upset with him or if she is just having some issues that take some time to deal with on her own. She wants things to move forward, and she wants to see him and Sam and make things public. But, this only works if they can help themselves move forward. If Jason can do what she wants him to do, this might just make a difference in their lives. For now, though, she's merely questioning what he is up to and how it will work. We have no idea if he will share anything he knows with her. She might not have that kind of ability in life to figure it out.
Then there is Sonny, and when he finds out that someone from his past is here to make things miserable for him, he will go out of his way to see how that will work. Who is it? None other than Dev. When Dev returns, Sonny has to face a few things, and he might not like what he sees. Will this affect more of his life than he is willing to handle, or will this help him move on with his situations, with his life, and with the things that are making him miserable at this point in time? We cannot decide.
Stay tuned for more General Hospital and be sure to check out TVOvermind daily for the latest General Hospital spoilers, news, and updates.