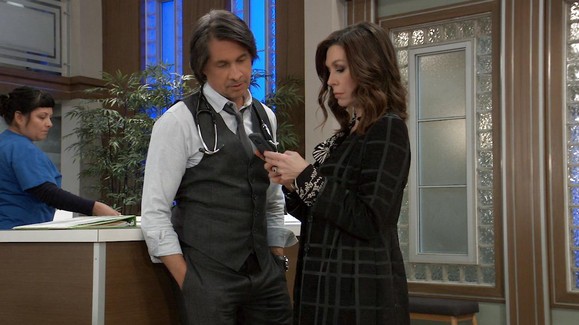 General Hospital fans got to watch Jason go through a total series of emotions this week, and it was hard on everyone. It's hard to see him go through things like anger and frustration and disbelief and sadness and wariness and everything in between. He is constantly under pressure because of so many things, and he is not going to find that his life is about to get any easier as things continue on. In fact, he is going to find that his life is a mess that he cannot change or figure out in any way as people like Anna keep at him and keep trying to make things worse than they are. We don't know what to do and how to make things right, and we don't know what to make of this right now. But, we do know that he is struggling.
Jordan had to tell Sam to back off, and that was not easy or productive. We all know she will never back off — including Jordan. That is not a thing tha they can handle in any way, but this is something that we can figure out on our own. There's a lot that might go on around here, but we also know that there is so much we might not be able to figure out. For instance, we might not be able to figure out what is going on with Maxie and with Lulu and with Lulu and with Brooke Lynn, but we know that some people will end up very hurt by a lot of what is happening. There's not much anyone can do right now other than wait for the other shoe to drop, which might just be with Brando and with Sonny. We don't know for certain but we feel confident we are right in that.
What's Happening on General Hospital
Lulu sees her opportunity to land a story and get back at Brook Lynn Quartermaine. Should she take it?#GH is brand-new and STARTS NOW on ABC! @EmmeRylan pic.twitter.com/H2FsNAo2LS

— General Hospital (@GeneralHospital) March 19, 2020
What's going to happen?
What's Next on General Hospital
"You're a good person… that knows how to do bad." #GH pic.twitter.com/SzO441iw9T

— General Hospital (@GeneralHospital) March 16, 2020
Jordan knew last week when she told Sam to back off that it would never work, never happen, and never be a thing. She knew that this was going to be a joke, but she had to do it. She needs her out of the way, and she needs to protect her. This week, she is doing all she can to make sure this happens and to make sure that they get what they need from everyone. This means that there is a big deal and a bunch happening. Right now, we just have to focus on the fact that we know she's about to lie to Sam and give her some very false information, and that's just what there is right now. Right now, there's a lot we cannot fix or handle, and that's a problem that will never be able to end.
Sonny gets some bad news. Terrible is a better word for it, though, and that's a thing we cannot handle. Might it be about his father? We hope not. Will it be about his business and what is going on there? We don't know. We just cannot decide how bad this will be, but we also know that Curtis is also going to learn something that will take him aback. It might not be good news, but we do know that nothing is going to change any of this. There's so much going on, and so many people getting things handled, but we also know that we just can't see things getting better soon.
Stay tuned for more General Hospital and be sure to check out TVOvermind daily for the latest General Hospital spoilers, news, and updates.