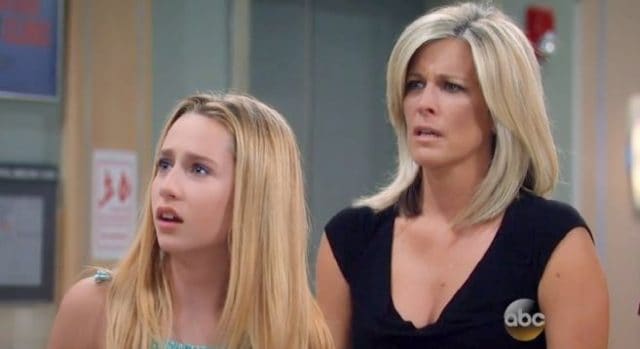 General Hospital fans are going to see some interesting developments with Carly and Josslyn. We know that Carly has been working very hard to see if she can fix things with her daughter. They've been horrible to one another for a year now, and Carly just wants her daughter back. She's lost her son, and she's being haunted by him. And now it's time for her to make things right with her daughter so she has a chance to see if they can work this out and make their lives better. But we just don't know if it's possible. What we will see today is a chance for them to move on — but it's at Joss' command.
You see, she's going to plead with her mother; and we have no idea why. We can predict it might be one of a few things. We would not be surprised if she asked her mother to stop it with Sonny and just leave him already. She might beg her mother to leave her husband so they can fix their family and put all the bad things in their lives behind them. She's mad at him for the things he did to her father, and this is not something she seems very willing to let go.
On the other hand, she might simply plead with her mother to leave her alone. She's tired of her mother and her life, and she's not made any secret about that. It's been a situation for all of them, and she might just ask that Carly leaves her alone.
Finally, we might predict that Joss might plead with her mother to give her friend Nelle a chance. Nelle's worked very hard to be Joss's friend and get on her side, and Joss might be the person who talks Carly into throwing this baby shower for Nelle and the baby they all think they are going to find out is related to them. And this might be precisely what we see go down on this Friday; and we know Carly will do it to make her daughter happy.