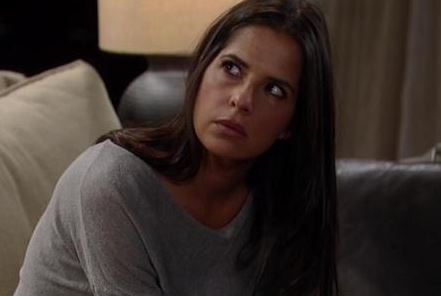 General Hospital fans know Sam is dealing with a serious health diagnosis. She's in a lot of pain and she's dealing with a lot more than just her illness right now. It caused her to do some awful things. She's been sharing some of those things with the doctor, but she's not sharing everything. She and Jason and Sonny made it a pact to keep her involvement in what happened to Sonny a total secret. They know she was not herself when she tried to kill him, and they want her to know she did not do that. But he moment her doctor told her that she might be experiencing some dark fantasies in her sick mind, she panicked.
If all the things she said and did and imagined during this time were all deep, dark fantasies and dreams she wished could come true, that says very little about her. Does she really want her husband's best friend dead? This realization might not affect her well at all, and it's not helping her to get over what is going on in her life. It's making it worse, actually.
Now she has to deal with the fact that not only did she shot and try to kill Sonny, she might actually want to see him dead deep down in the darkest places in her mind. That's making this even more difficult for her to deal with, and no one wants to see that as a real problem in their lives.