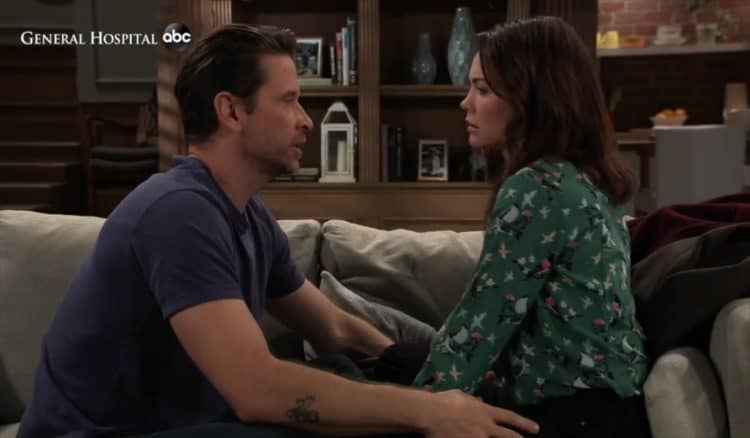 General Hospital fans are just not that happy. There. We said it. We cannot help but notice that 2019 was a year full of disappointment, horrible situations, deaths, and unhappy people. We are struggling to even come up with a marginally happy moment on the show this year in which people were in a good mood or a good place or just happy for a half second. We can't do it. It's too much. But, what we can do is figure out that there is a lot more going on than we originally thought. We know that so many things will make an impact on so many people, but what else is going on? The new year is almost here, and we are hopeful that it will bring some happy moments for people, but we definitely see a few things happening in the near future. Here are our predictions for what's up in 2020.
Nelle's Out
If you don't think she's going to find her way out of the jail cell, you are crazy. We also think that her release will happen around the same time that Lucas is going to die, and we think that it will happen because she makes sure it happens. She cannot have him telling the entire world the truth about baby Wiley. We think that she will use his death to make sure she can manipulate Brad into sharing custody of the baby with her — it is her baby, after all — while being part of his life so long as he keeps the secret of his real fatherhood to himself. She will blackmail him so that he doesn't lose the baby, either, and it might just work. Until it does not, of course.
A Baby Custody Battle
If you don't see this being a real problem in the new year, you should look into it. This baby is a baby that someone thinks is hers, but it's really Nelle's baby. He is being raised by another couple, and everyone is a mess outside of this. They have no idea that this baby is Nelle and Michael's baby and not Willow's baby, which means so many people are going to end up hurt and upset by all of this. There is so much that will not work out for so many people, but we can see a huge baby custody issue happening around here as secrets are kept, people are left out of things, and no one knows that their own baby is not alive/alive/living with someone else. It's going to be a mess.
Kim is Pregnant
She slept with Franco when he had Drew's memories. She slept with Julian as she was dating him. Tell us that the happiness that Franco and Liz are having now that he is back to himself is not going to be interrupted with a woman showing back up in town and revealing all the times she slept with him when he didn't know he was himself. Tell us she's not about to show up pregnant and not sure who the father of her baby is, but willing to share that while she makes one married couple mourn the loss of all the good in their life if there really is a chance that this baby belongs to Franco when he was Drew. It's a mess.
Sam Comes Home
We aren't sure how this will happen since they seem to be very convinced that she killed Shiloh, but there is no way she can continue to sit in jail for this long. She is not the kind of person who is going to do this, and we think that she will be released on the simple fact that there is not enough space in the jail in the new year. You see, she has a long list of things going on in her life, but this is the rumor right now. With all the talk of overcrowding, we cannot help but think that it's a situation that is leading us up to what is going on, how it will all go down, and what is next around here. We get it, we like it, and we hope it happens soon. We miss her freedom.
Tell us what's wrong with this post? How could we improve it? :)
Let us improve this post!