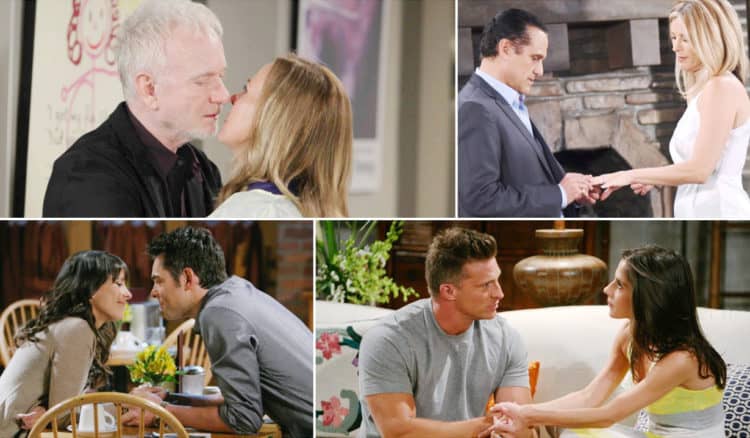 General Hospital fans see romance happen all the time around Port Charles. Someone is always looking to get involved with someone else around here on a daily basis, and we get it. But, we don't always like it. We like some couples, and we like some quick hook ups, but we don't always like what is going on with everyone in Port Charles. In fact, sometimes we want nothing more than to see that some people never spend more time together than they have to. We like to see things unfold in a positive manner, of course, but not when it means anything else is going on in any capacity. And these are the couple we are not fans of. They might not be together now, but we are sitting here always hoping they aren't together later, either.
Maxie and Damian
It's been a long while since they were together, but they have a history. She long since moved on from that, she got married, and her entire life changed. She lost her husband, and we all mourn his death. But she's managed to move on with the brother they never knew her husband had, and we might not love them. She and Peter lack all the chemistry she had with Nathan. She's not good with him, and we don't care if they make it work or not. They are never really on solid ground as it is, so we are good with them not making it work. However, we are not good with things not working for them in any capacity, either. We want to see more, but we don't know how to make it work for her. If she figures it out, though, we don't want to see her move on with Damian. They were no good. They were actually one of our least favorite couples of all time, and we are hoping they stay distant exes as long as forever.
Liz and Jason
We never liked them together. Actually, if we have to be quite honest about things around here, we don't like her with anyone. We just don't like to see Liz with anyone who is not Lucky. They were meant to be together, and they could never make it work. They both did horrible things to one another, and we know that they have to get past that, and he has to come back to town — which he will likely never do. But, we don't like her with anyone. We especially do not like her with Jason, but they are such good friends. They are like brother and sister, and seeing them romantic has always been difficult for us. We just don't like it, and we are not fans. But, there is more to this than meets the eye. We think that she needs to end things with Franco and not be with anyone. We cannot find someone we like her with. There is no passion, there is no excitement. We cannot figure it out, but there is nothing there we care for or want to see more of.
Nelle and Michael
She's looking to get out of prison. She's amazing and she brings so much to the show, and there is a rumor she might come back. We don't necessarily see this as a problem in any way, but we don't want to see her reconcile with Michael. She did too much to his family, she lied about their baby, but we think she might want that baby back if she gets out. We don't really think there is a chance that they might get back together. He hates her, after all, but we do worry that there is something the writers might do that might make this happen. We want to see them both with other people — or her with no one at all given that she is such a mess and such a disaster. We also don't want to see Michael with Sasha, either. But that's just us. We liked him with other people so much more than anyone he's been with in the recent past, and that's just that. We hope writers don't do that to this couple again.
Tell us what's wrong with this post? How could we improve it? :)
Let us improve this post!