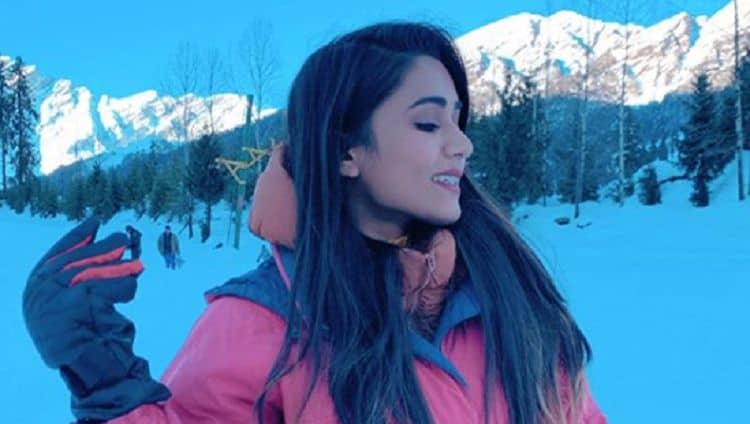 Move aside Instagram, in comes Tik Tok. The Tik Tok app is now what everyone is talking about. Stars are born from that app on a daily basis and it seems that there is no stopping its rise. A lot of teenagers and youth are finding their fame and fortune from Tik Tok. Formally called Musical.ly, the app has formed the basis of providing entertainment and a money mill for stars such as Lauren Godwin, Addison Rae, Bryce Hall, Sebastian Bails, and Alex Warren just to mention a few. It seems that the Asian community has also not been left behind as front runners such as Garima Chaurasia and Rugees Viniti are also maximizing and showcasing their talents on the app.
Garima Chaurasia was born on August 28th, 1997 in Haridwar Uttarakhand in India. She attended Swami Hariharanand Public School and later went to the College of Engineering in Roorkee in India. Garima gained popularity on the Tik Tok app after posting a dancing video that featured her friend Viniti on the platform. The video instantly went viral and has so far gained more than 3 million views. The duo was dancing to a rap song by Emiway Bantai called Bohat Hard from the movie Gully Boy. The movie is about the life and hustle of rappers and it was a huge success at the box office. The Tik Tok app lets the user post videos of a 15-second length. Garima Chaurasia is widely known for her short lip-sync and dance videos on the Tik Tok platform. Her comedy videos are also popular among her fans. She is also a crowned muser.
Here are 10 things you might not know about Garima Chaurasia:
1. Nickname
Garima Chaurasia sometimes goes by the name Gima Ashi which is what most of her fans know her by.
2. She is a beauty with brains
She might seem like just another internet star or social media influencer but Garima Chaurasia actually attended college before all the fame. The Tik Tok star attended the College of Engineering in India.
3. Social media presence
Garima has various social media accounts including Twitter, Instagram, Facebook and even has a YouTube channel where she posts live videos. On her Tik Tok account, she has over 3 million followers while on her Instagram account she boasts of over 2 million followers. Her YouTube channel has about 7,000 subscribers and the number seems to be constantly growing. With such a huge following, she is getting a lot of paid sponsorship gigs and she maximizes her online presence in various ways to push her brand ahead.
4. Dreams and aspirations
The social media influencer might have a bachelor in Engineering but her eyes are set on a whole other different thing. She dreams to one day be an actor and believes that through her YouTube channel and the Tik Tok platform she can get to showcase her talents. She posts short sketches on her YouTube channel which seem to be highly liked and appreciated by her fans and followers.
5. She is a dancer
Garima Chaurasia is one who wears many hats and dancing happens to be one of those hats. Her rise to fame video was the one where she alongside her friend Rugees Viniti danced along to the rap part of the song Bohat Hard. From the video, it is evident that Garima is skilled at the art. She has even appeared in a music video.
6. Income
Much like other internet sensations and social media influencers out there, most of Garima's income and wealth comes from her social media presence. The average payout for a Tik Tok user with an average of 5 million followers is roughly $1,000 to $2,000. Her income also comes from brand endorsements and according to Gossip Gist, she has been a brand ambassador for Health Vit products, and GlamEgo just to mention a few. She also benefits from Google paid ads and promoting sponsored content on her various platforms and accounts.
7. Net worth
According to Biography Wikipedia, Garima is estimated to be worth around $600,000. With her various gigs, brand endorsements and her social media influence growing on a daily basis, the Tik Tok star is slowly expanding her empire.
8. She is a model
The Tik Tok star has also been involved in modeling works and has done brand endorsements and ambassadorship for various other major brands such as Healthy Vit and Glam Ego etc. She manages herself and uses her social media accounts to get modeling jobs.
9. Hobbies
When Garima Chaurasia isn't making videos on Tik Tok she is reading or traveling to other destinations to unwind. She often posts videos and pictures of herself in different countries on her Instagram page. She also likes watching movies and is quite the foodie. Tandoori chicken is her favorite food and she loves listening to music by Snow Patrol. Her favorite actress is Deepika Padukone and Alia Bhatt. She drives a Mercedes Benz E Class and the Mercedes brand is her favorite brand of cars. Garima is also a fitness enthusiast and lives in Singapore and occasionally in Mumbai India.
10. Distinctive features
Garima Chaurasia is of average build with a height of 5'6". She has dark brown eyes, dark brown hair, and a tattoo.
Conclusion
Tik Tok is one of the rising platforms in the social media industry and many people are getting on the bandwagon. Social media might be a great socializing place but it does come at a great price. Garima has been trolled a number of times including her choice of clothes in her videos but she doesn't let the negativity affect her. The Tik Tok star is on a rise and she has the eyes set for the skies. With her endorsements and sponsorships growing due to her significant online presence and large fan base, she seems to be on the road to being one of the most popular social media influencers.
Tell us what's wrong with this post? How could we improve it? :)
Let us improve this post!