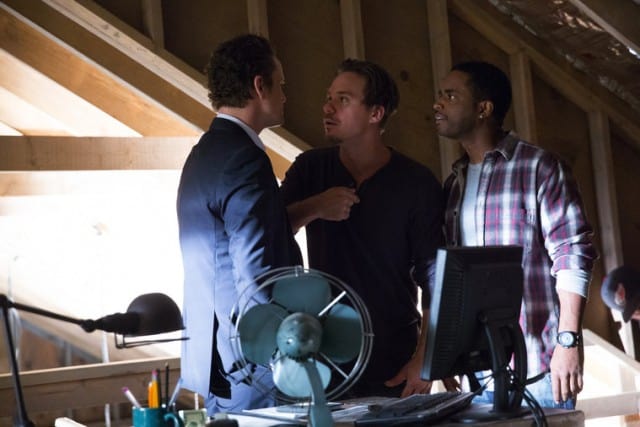 If you were looking for a version of Michael Raymond-James's beloved Once Upon A Time character, you're watching the wrong show. On Game of Silence Raymond-James plays Gil, the loose cannon of his childhood friends seeking revenge for the wrongs done to them while in juvenile detention. The series's third episode made Gil the center of the story, giving Raymond-James the opportunity to showcase his wide range of talents playing an angry young boy in a man's body.
After getting Bobby's confession last week, Gil has been replaying the video over and over again. He knows that Bobby lied about not being at the "parties" the warden used to throw where certain Quitman boys were "guests". During the time Gil is supposed to be working with Shawn, he instead goes to Bobby's with a loaded gun. He forces Bobby to tell him everything he knows about the parties. Up until this point Gil had blocked those particular memories out, and given the details, that was probably the best coping mechanism to survive. Bobby turns the tables on Gil, grabs his gun, and takes pleasure in taunting Gil with the party details. Luckily Shawn shows up long enough for Gil to jump Bobby and shoot him in the head, plus a few more times for the satisfaction of it.
Jackson is diligently trying to build a case against Carroll for murder by proving he made Jackson's pal Petey disappear after Petey was injured in a chemical spill. Sure enough, Petey never returned to his foster home, or any other, after being taken away from Quitman. At the same time Jackson defends a 19-year old kid on the verge of being transferred from a juvenile facility to prison. Jackson passionately defends his client, knowing firsthand what he is facing, and wins.
Jessie is worried about all of her friends. When the cops come to her front door asking questions, Jessie goes to Jackson wanting answers. He won't tell her anything so she breaks into Gil's safe and finds the tape of Bobby's confession. Jessie is finally let into the inner sanctum. Even better, Gil finally feels that he can open up to Jessie about what happened to him at Quitman.
The other, less moral Quitman boys aren't about to lose the lives they've built. Terry and Dennis were the Quitman boys who were more on the warden's good side. Terry stayed under Carroll's employment and became a father, while Dennis went to work for the church. Dennis visits Boots's wife and finds out Boots attacking Darryl was a coincidence. Yet Terry is intent on protecting them both, so he pays a visit to Jackson's fiancee Marina, masquerading as a landscaper. He leaves surveillance photos of Marina for Jackson to see. When Gil messed up earlier in the episode Jackson tried to put a stop in their revenge plan, but Jackson destroyed the memory card so that the tape cannot be used against them if the police figure out Bobby is dead.
The flashback sequences were split this week. Half of the flashbacks showed how Terry and Dennis came to be at Quitman themselves, and also why Dennis is now beholdent to his older brother. Speaking of brotherly bonds, wet get to see how Gil and Shawn became best friends. When they were kids Gil was the only person who welcomed Shawn into the neighborhood and into his life. Their bond runs so deep that Shawn didn't even blink when Gil killed Bobby. Gil was just a revelation.
Anyone else think the boys are justified in their revenge plot?
Tell us what's wrong with this post? How could we improve it? :)
Let us improve this post!