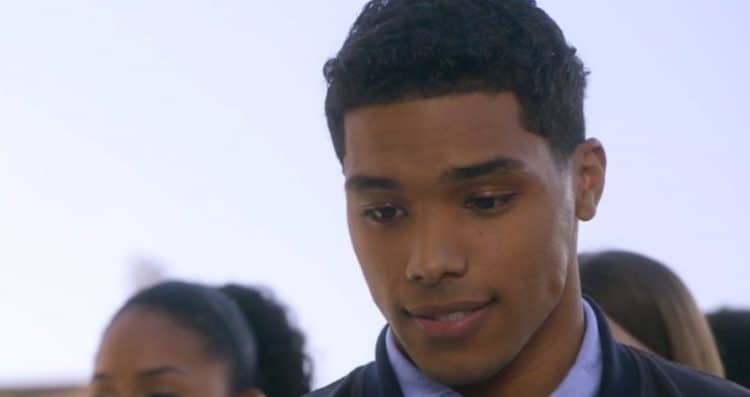 Gabriel Maddox only appeared briefly at the end of Season Four of How To Get Away With Murder but fans are already trying to work out how significant he may be in the next season. There is still a lot that we need to find out about the character but here are ten things that we do know.
He Is Played By Rome Flynn
The character of Gabriel is played by Rome Flynn. He is best known for his long-standing role as Zende Forrester Dominguez in The Bold And The Beautiful. He left the program last year and this is the first regular role that he has starred in since then.
He Is Attending Middleton Law School
In the scene that he appeared in, it looked as if he was signing up for a course at Middleton Law School. His career as a lawyer may bring him into contact with some of the other characters of the show. This could be a way that he gets to interact with other people before it comes to light who he is.
Frank Knows Who He Is
Frank was also in attendance at the school and he recognized Gabriel immediately. There did not seem to be any mutual recognition so fans are assuming that he does not know who Frank is. There is a definite connection there though and this is something that is bound to be explored further in season five.
Frank Made A Phone Call About Him
As soon as he spotted Gabriel, Frank was straight on the phone. We do not know who he was talking to but it is clearly someone else that knows who Gabriel is. He made a reference to 'her son' on the phone but it is not yet clear who the 'she' is. We can guess that he was not talking to the mother or the father which could mean that whoever the mother is, she does not know that this is her son.
He Could Be Bonnie's Son
The most popular fan theory at the moment is that Gabriel could be Bonnie's son. We know that she had a child when she was young but was told by her father that the baby had died. It was her father along with other men that were abusing Bonnie so he would have cause to hide the fact that the child was still alive. We also saw Nate looking at Bonnie's file just before the scene with Gabriel and the file contained a post-it note that said CHILD ALIVE?
The Timeline Fits For Him Being A Child Of Bonnie
If Gabriel is just about to start law school then he must be in his early to mid-twenties. Bonnie was around fifteen years old when she gave birth and is about forty now. Therefore the timeline does make sense when considering their ages. All the signs so far point towards him being Bonnie's son but this could be a red herring.
He Could Be Wes' Brother
Another theory is that he is Wes' brother. There has been no indication previously that his mother had any more children but we can't say the same for sure about his father. It is possible that he had a half brother that has come looking for some answers about his death.
He Is A Bit Of A Flirt
We saw with the way that he was with the signing in lady that he can be very flirtatious. Frank may not have even noticed him if it wasn't for this. This is a side of his character that may be explored further in season five.
He Will Be A Regular Cast Member In Season Five
It has already been announced that Gabriel will be a regular cast member in season five. This is the strongest indication that we have gotten that he is going to play a major part in the next season.
We Will Not Find Out The Answers Straightaway
Fans will be eager to find out exactly who Gabriel is when season five starts but we may be in for some wait. The producer of the series, Pete Nowalk, has already indicated that he wants people to get to know the character of Gabriel before it is revealed who he actually is.