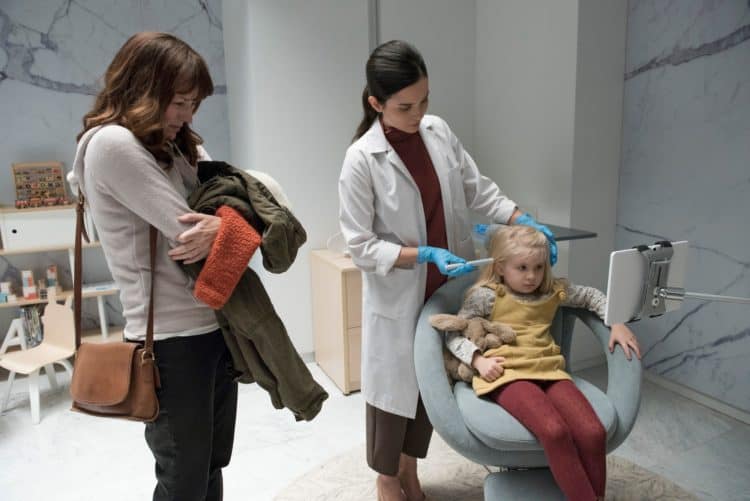 In 2011, a futuristic version of The Twilight Zone made its debut on the British network on channel 4, Black Mirror, which would go on to air for two seasons before making the transition to Netflix in 2013. Since then, the anthology series has produced five seasons and 22 episodes in total. Generally speaking, the anthology series has been met with rave reviews and received several Emmy nominations, though many critics and fans would agree that the quality of the series has waned in the later seasons. Still, Black Mirror is one of Netflix's most popular shows; however, the future of the series remains up in the air. Following the three-episode season back in 2019, which was met with a lukewarm reception, there's been no date set for the next season. After nearly a decade of freaking out audiences about a possibly grim future involving technology, does this mean that Black Mirror is officially over? Well, with Netflix not canceling the series yet, there's plenty of speculation on what's next for the anthology series. Let's break down what might end up happening to Black Mirror.
Charlie Brooker Has Decided To Take A Break Following Season 5's Weak Reception
Season five of Black Mirror was…there. The creator himself has stated in an interview with Radio Times in 2020 that the reasoning behind the lack of news regarding season six of Black Mirror is due to the coronavirus pandemic. Brooker didn't feel it was the right time to pen new episodes for the anthology series and decided to put Black Mirror on hold in favor of more comedic projects: "I've been busy, doing things. I don't know what I can say about what I'm doing and not doing," he told Radio Times. "At the moment, I don't know what stomach there would be for stories about societies falling apart, so I'm not working away on one of those. I'm sort of keen to revisit my comic skill set, so I've been writing scripts aimed at making myself laugh."
Brooker's reasoning for stepping away from Black Mirror could also be due to exhaustion from the series altogether. Brooker wouldn't be the first showrunner to leave their show for personal reasons, with some examples include Clyde Phillips (original Dexter showrunner) leaving his popular show to spend more time with his family. Given the weak reception of season six, Brooker likely decided to take a step back and work on other projects for a bit before returning to Black Mirror. This could be a creative trying to find his voice type of situation. Or, in the case of Larry David and Curb Your Enthusiasm, Brooker will bring back the show when he's ready to get the creative juices flowing again. Of course, this is pure speculation on my end as Brooker has only stated the reasoning above. Netflix hasn't canceled the series yet, thus there's a strong possibility that the anthology series will make a grand return.
Charlie Brooker And House of Tomorrow Can't Agreed On The Next Move For Black Mirror
Like the reasoning above, this is pure speculation but it's interesting that there's been no update on the series since 2020. Originally, Charlie Brooker and co-creator Annabel Jones left Black Mirror's production company, House of Tomorrow, which is part of Endemol Shine. Likely, there's some struggle over the Black Mirror property. The rights of the series remain with Endemol Shine, so Brooker and Jones are unable to create new episodes without Endemol Shine's approval. Black Mirror has been a huge success for Netflix, so it's highly unlikely that Endemol Shine will give up the series unless Brooker and Jones buy the rights from them.
Reportedly, the pair resigned in 2019, though the reasoning behind their departure remains a mystery. Whether the split was amicable or not, there's going to be a bit of power struggle in regards to what happens to Black Mirror. It's definitely possible that Endemol Shine decides to hire new showrunners for the series. This practice is nothing new and will continue to happen in the future. There's no telling how much the rights to the Black Mirror property is, though given the fact that the anthology series is a hot commodity, then I imagine it isn't cheap. We'll surely know the future of the show eventually, though the process of getting there could take a while. He's hoping that the situation is settled and the anthology series can back to depressing audiences about the future.
Tell us what's wrong with this post? How could we improve it? :)
Let us improve this post!