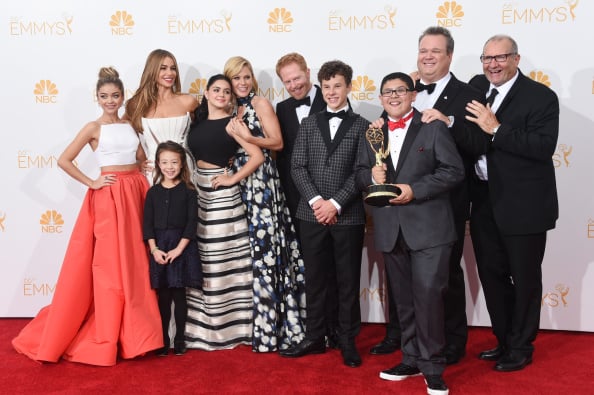 Modern Family has been a staple on ABC's Wednesday night comedy block since it premiered in 2009. The sitcom could be classified as the funniest show on television. After all, the comedy has won the Emmy in the category of Outstanding Comedy Series for the last five years. Much of that can be attributed to the amazing cast that includes Married with Children's Ed O'Neill and Ed's Julie Bowen. But who is the funniest character on Modern Family? We at TV Overmind decided to take a look back over six seasons of episodes and determine which character cracks us up the most. Don't get us wrong. We think the entire cast is hilarious, but some are funnier than others. So, where does your favorite Modern Family character rank? Take a look at the list below.
11. Manny Delgado (Rico Rodriguez)
Manny Delgado is an old soul living in the body of a teenage boy. During the first couple of seasons, it was humorous to watch Manny pine over an "older" girl and then mess it up by spouting poetry that only a college scholar would understand. It is nice to see Manny finally starting to act like a teenager (starring in plays, playing football). Maybe his character will be able to become funnier by acting like a regular kid or by taking some advice from nephew Luke.
10. Jay Pritchett (Ed O'Neill)
Ed O'Neill proved he was comedy gold by starring on the much-loved Married with Children from 1987-1997. Jay Pritchett is the patriarch of the family, but when it comes to humor he does not rule the roost. Jay plays well off of Gloria's wild antics, but sometimes he can get lost among all the crazy family dinners where everyone is bickering and he is left on the sidelines. I do find the storylines between him and his beloved pooch Stella to be great.
9. Mitchell Pritchett (Jesse Tyler Ferguson)
Mitchell is the son of Jay and the brother of Claire on Modern Family. Though he is funnier than his father, he can not compare to the physical comedy of Claire. Even in his own household, Mitch is not the funniest person. Most of Jesse Tyler Ferguson's scenes are with Eric Stonestreet, who plays Cam. Because of this, I think he gets over shadowed because of the better storylines Cam is given. After all, you can only make a high-maintenance and straight-laced lawyer so funny.
8. Alex Dunphy (Ariel Winter)
Alex is the punchline of many jokes in the Dunphy household on Modern Family. Usually, Luke and Haley are making fun of her for not having any friends. Since Alex is by far the most intelligent member of the family, it is easy for her to get the last laugh. She is the Queen of comebacks, most of them being directed towards her older sister who will not understand them. Hopefully, Alex will still be a presence on the show when she heads off to college.
7. Haley Dunphy (Sarah Hyland)
Every comedy needs a dumb character. In the case of Modern Family, Haley would be that person. Sarah Hyland is able to pull this off perfectly, which is why she ranks slightly higher on the funny scale than younger sister Alex. Since Haley has graduated high school, her storyline has began to decrease. We hope she will be more prevalent in the second half of season six and is still as dumb and clueless as she was in season one.
6. Gloria Delgado-Pritchett (Sofia Vergara)
A majority of Gloria's storylines on Modern Family are with husband Jay and son Manny. Because both of those characters play the "straight man", it is easy for Gloria to get all the laughs as the "funny woman." I also find it silly when she gets angry with her husband and begins to speak Spanish. Since the birth of baby Joe, Gloria has stepped back in her crazy antics. However, whenever she is paired with close pal Cam you know you are in for a comedic treat.
5. Luke Dunphy (Nolan Gould)
Of the three Dunphy children on Modern Family, Luke is the funniest. In the earlier seasons, he could be as dumb as his older sister Haley. As the character has progressed, he has continued to be funny whether is it from trying to pull off a prank with unwilling partner in crime Manny or assisting father Phil in the latest household project. I knew Luke was going to be funny from the pilot episode when Phil had to shoot him with a BB gun.
4. Lily Tucker-Pritchett (Aubrey Anderson-Emmons)
Aubrey Anderson-Emmons began playing Lily during the third season of Modern Family. Who knew such a young child could be so funny? Lily really shines when she is schooling her dads about something they did wrong. I look forward to seeing her get funnier the older she gets.
3. Cameron Tucker (Eric Stonestreet)
Cameron is one of the characters that is able to be involved in many character's storylines. He is married to Mitch, he flipped houses with Claire, and is Manny's football coach. Because he is able to interact with so many different people, Cam's storylines are able to remain fresh and equally entertaining. It is also enjoyable to watch Cam go from a sweet loving husband to a tough-guy at the drop of a dime. Plus, he does a great job playing clown Fizbo.
2. Claire Dunphy (Julie Bowen)
Of all the Pritchett's, Claire is the funniest. However, when it comes to the Dunphy clan, she has to play second fiddle to husband Phil. Claire has had many amusing moments like when she fell asleep after waking up early to get Phil an iPad or when she decided to run for town councilwoman. Claire has proven that she can be funny as a stay at home mom and also as a working woman after she accepted a job working at Jay's company that makes closets.
1. Phil Dunphy (Ty Burrell)
Phil takes the prize for being the funniest character on Modern Family. A lot of that can be attributed to his physical comedy. Over six seasons he has tripped countless times on the loose stair, been hit in the face by Jay's mini airplane, and suffered from kidney stones. Claire has even called Phil the kid she is married too. Not only is Phil the cool fun dad, he is also a talented magician. If you put all these traits together you get one hysterical character.
Who do you think is the funniest character on Modern Family? Let us know in the comments section below.
Photo by Jason Merritt/Getty Images