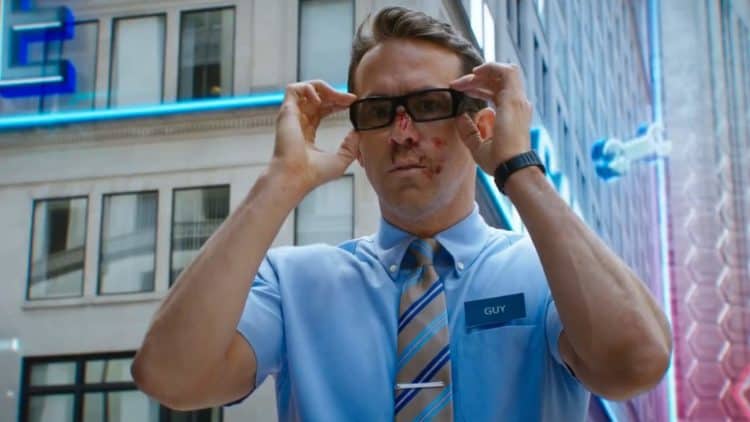 What if life fared better inside a simulation? Fans of video game franchises, such as Grand Theft Auto and The Sims might be able to relate to this. Being able to control the narrative and having the power to determine the fate of a certain character is a pretty thrilling experience. This theme is further explored in 20th Century Studios' new movie, Free Guy.
What to Expect from the Movie
The science fiction action comedy film is directed by Shawn Levy, who is no stranger to the science fiction genre. He has directed movies and television series that venture into parallel universes. Some of these include, Night at the Museum and Stranger Things. Levy dabbles into something similar this time around. He explores the world of artificial intelligence and virtual gaming through the eyes of the movie's main character, Guy, portrayed by Ryan Reynolds (Deadpool). Guy works as a bank teller who has a pretty routine life. Although he has no major complaints, he starts to become bored with his life and is open to exploring things beyond the daily norm. This feeling is magnified when Guy encounters Molotov Girl, played by Jodie Comer (Killing Eve). Little does he know that crossing paths with her is about to change his life forever. In this case, the truth can sometimes be stranger than fiction. Guy finds out that there is more to Molotov Girl that meets the eye. Apart from this, he also realizes that there is still so much more to the current life he is living.
An oblivious Guy discovers that he is identified as an NPC, or "non-playable character", who is living in a fictional universe through a video game, called Free City. In gaming lingo, NPR is equivalent to being a generic background character who adds no real value to the game. This revelation unhinges Guy, and makes him gather his courage to seek for more. The mysterious Molotov Girl also turns out be Millie Rusk, a computer prodigy, who together with her ex-boyfriend, Walter "Keys" McKey, played by Joe Keery (Stranger Things), are the brains behind another video game, called Life Itself, whose artificial intelligence software allows for its characters to take charge of their own fate. In order to bring the game into life, they present it to the CEO of Soonami games company, Antwan, played by Taika Waititi (Hunt for the Wilderpeople). Antwan uses this to his advantage. He shelves their game, steals its game code, and uses it to create Free City, which he credits as his own idea. In Free City, the players are encouraged to freely wreak havoc in the game's virtual metropolis. Going in full destruction mode is widely accepted. This spells carnage with a capital C!
Millie encourages Guy to break through the daily grind, and join in on the wreckage. Guy puts on a pair of special sunglasses and turns from NPC into full-blown player. Apparently, the "sunglass people" in Free City represent the heroes of the game, while everyone else is considered as NPC's. Viewers are brought on an action-packed adventure with Guy, who takes on this whole new persona as the good guy amidst all the other treacherous characters in the game. Aside from the creative storyline, the movie also features a wide array of cameo appearances. These include gamers and streamers, such as Imane Anys aka Pokimane, Seán McLoughlin aka Jacksepticeye, Richard Blevins aka Ninja, Lannan Eacott aka LazarBeam, and Daniel Middleton aka DanTDM. Other notables all-star guests include, the last onscreen appearance of Alex Trebek, the former Jeopardy! host who has since passed on, Dwayne "The Rock" Johnson (Jumanji), Channing Tatum (21 Jump Street), Hugh Jackman (X-Men), John Krasinski (A Quiet Place), Tina Fey (Baby Mama), and Chris Evans (The Avengers). This film just screams fun from every angle.
Other Movie Updates
Like many other films and television series, Free Guy also fell victim to the ravaging COVID-19 pandemic. The film went through some hurdles, as it was initially supposed to premiere last July 2020, then was delayed to December 2020 due to the onslaught of the pandemic, but as luck would have it, the dates were pushed back even further. Finally, the cinema gods flew to their side, and the film was finally able to have its star-studded grand premiere, followed by its much-awaited release date last August 13, 2021. Aside from its 45-day exclusive theatrical release, the film will also premiere at the Piazza Grande section of the 74th Locarno Film Festival, which happens on August 4 to 14. Reynolds has been known to be one of the funniest and most entertaining actors of his generation, expect no less this time around. The long wait will not go unrewarded.Stranger Things
Tell us what's wrong with this post? How could we improve it? :)
Let us improve this post!