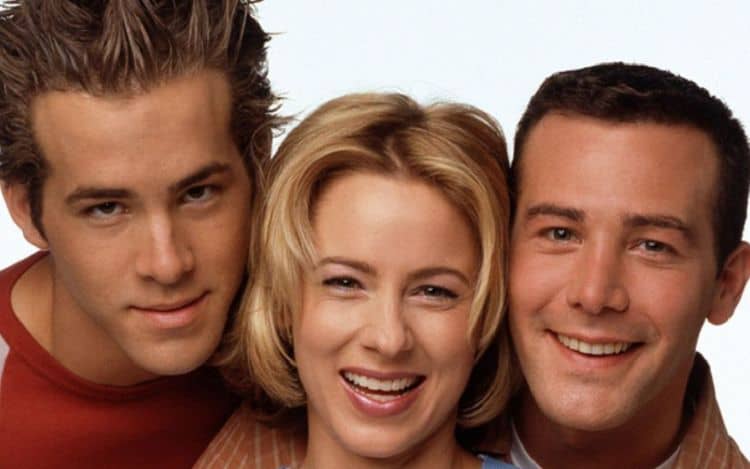 How many people still remember the show Two Guys, a Girl, and a Pizza Place? It's a long title for a show, not the longest in history, but still a mouthful all the same for a show that lasted all of three years before it was taken off the air. The whole premise was that Richard Ruccolo and Ryan Reynolds (a lot of R's there) played graduate students Peter and Berg, and lived under their former housemate, Sharon, who was played by Traylor Howard. It was essentially a show about relationships and two guys, who were kept in line by a girl, and who worked at a pizza place. It's an interesting concept, right? Anyway, Nathan Fillion was on the show too, but the top star of the show was Reynolds since he took his role and did more than run with it, he sprinted for the finish line with every snappy comeback and witty one-liner he could, which made a lot of people think that he might have more to his career than this once appearance on a sitcom. And of course, they were right since, after a while, Reynolds' career took off with such speed that people had to wonder just where in the hell he'd come from since it felt like one moment he wasn't much of anything apart from the character that he'd been seen as in the show, and the next he was starring in Van Wilder and many other movies that have cemented his stardom.
Admittedly, there are quite a few appearances of his that predate Van Wilder and this particular show, but until he really started becoming known it was hard to think of who he was since he hadn't really let that big personality out in such a way that people had come to know his name in such a big way. It's also possible that the stacked and ripped form that he presents whenever he takes his shirt off wasn't done being crafted either since in Van Wilder and a few other movies he has no trouble taking off his top to show his muscular physique, which as you can imagine, a lot of fans happen to enjoy. But his wit and his charm are also big draws that tend to turn people on when they think about Reynolds since he has such a biting way about him when it comes to his jokes and quips that it's hard not to laugh or do a sudden spit take if one listens to him at the wrong moment. There have been plenty of scenes in which his sense of humor and his ability to deadpan with the best of them has been tested, and found to be just as strong as anyone's, perhaps stronger than quite a few. This is after all a guy that managed to find the time to bust out a sense of humor with Wesley Snipes on the set of Blade: Trinity, even if it wasn't always fully appreciated by Snipes. That particular story is still being debated, since according to Patton Oswalt, Snipes didn't really get along with anyone, which would include Reynolds.
But his time on the show Two Guys, a Girl, and so on so forth was definitely where a lot of people can still remember him since it was where his famous, or infamous, sense of humor really started busting out in a big way considering that the fact that any of us even remember this show is because Berg was something of a nut. He wasn't crazy in the conventional sense, but he definitely acted like an early Van Wilder, someone that liked to have fun and didn't take a lot of things seriously. One could say that this show reached a place where it was better to just move on and assume that the characters all turned out just fine since Berg was entering his medical residency while Pete had become a firefighter and Sharon was dating Nathan Fillion's character. The pizza place had been abandoned at that time, and without that, it was just Two Guys and a Girl, which wasn't quite as catchy any longer, so it could have just been time to push onward and say goodbye. The other actors went on to do their own thing after the show, but Reynolds took a little while to really gain the kind of traction he needed. Once he did though, things started moving forward and they didn't really stop for a while since at this point he's one of the biggest actors in Hollywood and has been through quite a bit when it comes to his career.
One has to wonder if he ever looks back and thinks about the show and what it did to help him. Maybe it's a pleasant memory, or maybe it was just a means to an end.