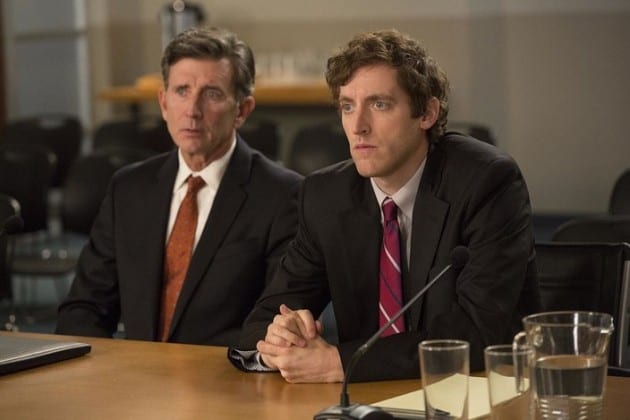 Silicon Valley has been one of the funniest shows on TV in 2015. It's also been one of the most nerve-wracking. And the balancing act between the two has helped the HBO series transform from a strong freshman sitcom into one of the very best comedies that television has to offer, a laugh-filled thrill ride that has been as tense as it has been hilarious in Season 2.
That's why it's no surprise how well "Two Days Of the Condor" works as a finale to this season of Silicon Valley. In just under 30 minutes, Mike Judge and Alec Berg give us a story that showcases the very best of Silicon Valley: its constant desire to up the stakes, its nonstop ability to make even the most intense situation also hysterical, its group of underdogs coming together and finally getting a victory, and that victory being short-lived, thanks to yet another problem our underdogs now have to face.
And those problems, which consistently pop up just when things seem too good to be true for Pied Piper, are what make Silicon Valley so special.  Unlike Entourage, which many have compared Silicon Valley to, as both HBO series focus on a group of male friends working together to make it big in California, the show isn't content with allowing its characters to succeed without any consequences. As I stated above, there are stakes in each and every episode, and just because Richard and Co. are able to move past one obstacle doesn't mean they'll be able to avoid another. And that's why, after Pied Piper shockingly wins the case against Hooli (due to many of the company's employee contracts being declared legally invalid) and Richard gets to the house in time to stop Dinesh and Gilfoyle from deleting the program, the episode ends with Richard getting fired as CEO. Sure, he and the guys have beaten the odds this season and overcome a lot of challenges, but Silicon Valley isn't interested in wish fulfillment; before Richard can fully be his own boss, he needs to figure out what type of leader he'll be, instead of the flip-flopping, somewhat desperate one he was this season.
But even though Richard does lose his job (and Erlich may also be out of one, as he reminds us in the season's closing line), Pied Piper itself is stronger than ever. "Two Days Of the Condor" really illustrates how well this team can work together and support and encourage each  other when they have a common purpose. The goal of keeping the live-stream going, especially as the amount of viewers climbed to 200,000 and then 300,000, brought out the best, most dedicated and inventive sides of Dinesh, Gilfoyle, and even Erlich, who chooses to not sell his house and instead help out by coding for the first time in forever.  As Jared says, it really is magic, and the whole sequence is so wonderful to watch, as we are reminded why keep rooting for these guys, even when all it seems that all they do is criticize one another.
So, yes, Richard may be out of a job, but the company he founded is better than it's ever been. And hopefully, if the rest of the team can keep that magic going, some of it will rub off on him and help Richard find his way back to his CEO position again. Although, before he gets there, I'm sure he'll have to deal with getting a few more curveballs thrown at him, and I, for one, wouldn't have it any other way.
Other thoughts:
– Erlich's reaction to being called a fool by his realtor was yet another fantastic display of comedy from T.J. Miller. If he doesn't get nominated for an Emmy for Outstanding Supporting Actor, I'll be more than a little upset.
– Same goes for Thomas Middleditch in the Lead Actor category, as he did great work all throughout Season 2, making Richard so much more than just the awkward, mumbling CEO.
– Russ Hanneman returns for one final scene, telling Monica that Laurie bought out his shares of Pied Piper (officially putting him back into the "three comma club"), before asking her if she would like take a ride in his car, an offer that she immediately declines. I only wish that we had gotten to see a little bit of Russ's phone call with Laurie, although the details she provides are incredibly funny.
– It seems that Big Head may be finding himself in an even higher-ranking position next year, especially if this is the end for Gavin Belson at Hooli.
– "I've always wanted to be part of a suicide pact." Jared misunderstanding things will never get old.
– With Raviga now having such a huge role in Pied Piper, I hope that means we'll be seeing more of Amanda Crew and Suzanne Cryer next season. As well-used as both actresses were in Season 2, I definitely think that Monica and Laurie could and should have bigger roles in Season 3.
– And with that, we come to the end of Silicon Valley Season 2. Thanks for all those who have read, commented on, and/or shared these reviews. I had an awesome time writing about this tremendous season of TV, and can't wait to be back doing it for Season 3. See you all next spring!
What did everyone else think about Silicon Valley's season finale and Season 2 as a whole? Comment below and let me know.
[Photo via HBO]