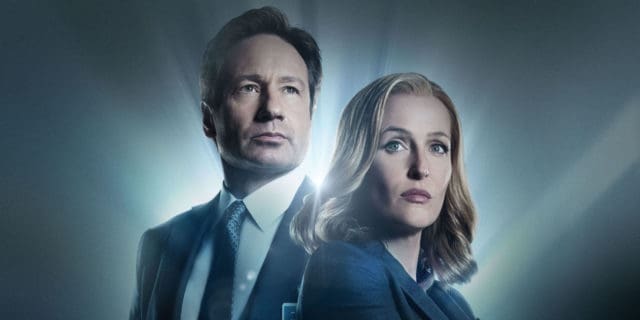 Fox has set the premiere dates for the return of The X-Files and the new Ryan Murphy drama series 9-1-1. They will both premiere on Wednesday, January 3. The eleventh season of The X-Files will return at 8:00pm ET/PT, followed by the premiere of 9-1-1 at 9:00pm ET/PT.
The all-new, 10-episode second installment of The X-Files event series will once again be executive-produced by creator Chris Carter, with stars David Duchovny and Gillian Anderson returning in their roles as iconic FBI Agents Fox Mulder and Dana Scully. Mitch Pileggi also returns as FBI Asst. Director Walter Skinner. Additionally, the all-new episodes will feature guest-star appearances by Annabeth Gish, Robbie Amell, Lauren Ambrose, Karin Konoval, Barbara Hershey, Haley Joel Osment and William B. Davis, who reprises his role as "Cigarette Smoking Man." In its return last 2016, The X-Files drew an average multi-platform audience of nearly 16 million viewers and was the season's No. 2 broadcast drama, as well as the most talked-about event series on Twitter. Along with Carter, series veteran Glen Morgan serves as an executive producer.
Following The X-Files, provocative new drama 9-1-1 premieres. From creators Ryan Murphy, Brad Falchuk and Tim Minear, 9-1-1 explores the high-pressure experiences of police, paramedics and firefighters who are thrust into the most frightening, shocking and heart-stopping situations. These emergency responders must try to balance saving those who are at their most vulnerable with solving the problems in their own lives. The series stars Angela Bassett, Peter Krause, and Connie Britton. Oliver Stark, Aisha Hinds, Kenneth Choi, and Rockmond Dunbar also star. Bradley Buecker directs the premiere episode and serves as an executive producer, along with Alexis Martin Woodall and series star Bassett.
The current time slot occupants, Empire and Star, will have their fall finales this December. They are scheduled to return in March.