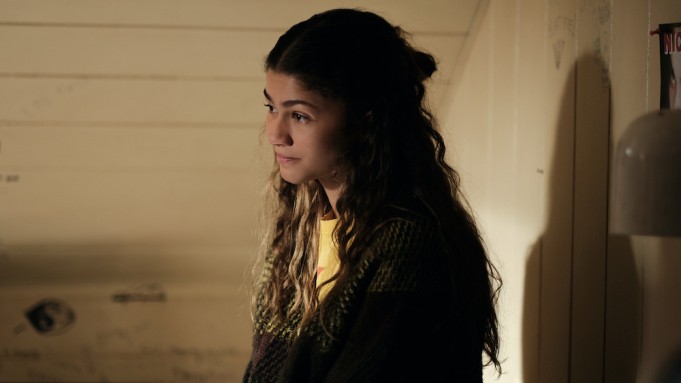 After eight full episodes of watching Rue float into oblivion right onto the brink of death, the growth of Cassie and Nate's secret relationship, and Lexi's evolution, the roller coaster that is Euphoria Season 2 finally ended. While the season 2 finale attempted to clean up the loose ends, fans were left with many questions. Here are the top four questions that the finale episode failed to address:
1. Are Fez and Ashtray Really Dead?
After Ashtray kills Custer for snitching and trying to set them up, Fez tries to convince his younger brother to let him take the wrap. But Ashtray refuses to surrender for the police when they arrive, and he ends up in a shootout with them. One of the bullets hits Fez in the stomach. After Ashtray kills one of the officers, we see a red beam centered on Ashtray's heart. We never see him actually die, but we hear the sound of the final gunshot. We also never saw Fez die. Therefore, there is a slight chance they may survive on Season 3, but they'll likely spend the rest of their life in prison if they do. If Fez survived and Ashtray is indeed dead, he could put the murders on Ashtray since there is no longer a need to protect him. More than likely,he'll do some jail time but maybe not life. Will Fez and Lexi's relationship have a chance to grow?
2. Will Cassie ever take accountability for her actions?
This season, Cassie broke the girl code by sleeping with her best friend's ex-boyfriend. Despite this major violation it was hard to paint Cassie as a villain.It's clear that Cassie's daddy issues have caused deep-seated emotional problems. Let's not forget that last year was especially tumultuous for the teen. After being forced to have an abortion, her nudes were circulated the school. Therefore, Cassie's mental stability was already on the rocks. Although Cassie deserves redemption, we would have liked to see her take some accountability for her actions in the season finale. In the bathroom scene where she admits that Nate broke up with her, she has ample opportunity to apologize, acknowledge Maddy'ss feelings, and even offer an explanation.
3. What about the $10,000 debt Rue owes Laurie?
We were introduced to Laurie as a villain in the first episode of Season 2, when her men roughed up Fez, Ashtray, Custer, Faye, and Rue. Laurie's smooth monotonous tone might be deceiving, but the former teacher turned drug dealer was no one to play with. When Rue realized that she could no longer maintain her expensive drug habit, she made a deal with the devil. Rue somehow""convince"" Laurie that she was sober and proposed a deal to sell drugs to the students at her school. Laurie sends Rue away with $10,000 worth of drugs in a suitcase and a promise to put her on the "hoe stroll" if she screws her over. Of course, we never see Rue sell a thing. Instead, she has the time of her life snorting away at her supply. When Leslie finds out that Rue is using she that she flushes the drugs down the toilet. Leslie doesn't know anything about the deal that Rue made with Laurie, so it's easy to believe that she discarded the drugs. But since, we never actually saw her do, there's a possibility that the suitcase is somewhere out there. In episode 5, Laurie finds out that Rue has been getting high on her supply and doesn't have the money she owes her except, $2,000 in stolen cash. When Laurie comes to the realization that she'll never get the rest of her money back from Rue she tries to hold her hostage. After Rue breaks free we never see Laurie again. Unfortunately, the season finale fails to address the huge debt that Rue owes and whether Laurie makes an effort to come collect.
4. Is the video of Jules on the thumb drive Nate gave to the police?
The video of Cal engaging in sexual intercourse with Jules, Nate's underage classmate was a big part of Season 1's storyline. If you recall, Nate catfished Jules posing as "Shy Guy" on Reddit. He fooled Jules into believing that she had finally found a good guy all to protect his father's secret. In Season 2, Episode 6, Nate returned the disc to Jules assuring her that nobody else had seen it. But we don't know if that was the only copy of the video. In the Season finale, Nate hands the police a memory stick when he turns his father in. Are the videos of Cal sleeping with other underage teens on the USB? If Jule's video with Cal is being used as evidence than at some point in Season 3 she's going to have to relive her past trauma. Poor Jules, she doesn't deserve this.Season 2, Episode 6
Tell us what's wrong with this post? How could we improve it? :)
Let us improve this post!