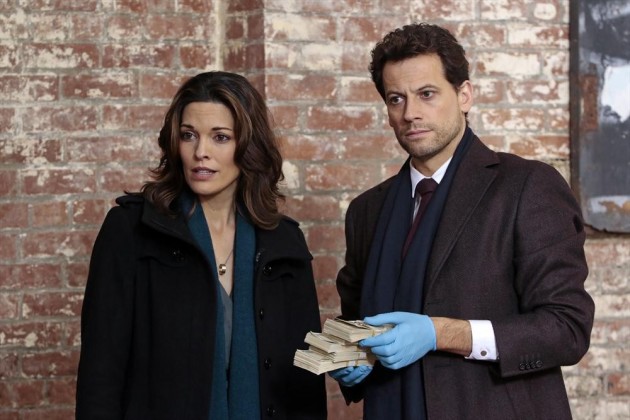 After a short hiatus, Forever and Henry Morgan are both back at what they do best. One is solving crazy murders that other medical examiners would rather not touch with a ten foot pole, and the other is creating interesting mysteries built around a fascinating character.
In this week's episode, an old army buddy of Abe's loses his son, who was a wealthy Wall Street guy with grass roots. This just happens to be the first case that Henry inherits when he FINALLY returns to work, to the chagrin of his interim replacement, and to the joy of Lucas and Detective Martinez. Guest star Billy Baldwin appears as the head of the firm on Wall Street.
I certainly haven't lost much of my fascination with Henry as a leading man. Ioan Gruffudd is a strong actor, and he continually proves it. He's no Richard Castle in terms of humor, but he's a very different type of leading man. The men at 10, while doing some similar work, are VERY different. (Although, now that I make the comparison…crossover? Please?) Alana De La Garza is becoming increasingly compelling as the number two player in the series, also.
Forever is not without its problems. Of course, I still believe that the show under utilizes two of its major players. Joel David Moore's Lucas and Judd Hirsch's Abe are both criminally underused. Abe has been used more and more, however, and that is a very smart decision on the part of the show. Abe is a compelling character who's built into an interesting premise. Judd Hirsch brings a real gravitas to the role, but at the same time can make you laugh. I'm not totally unsure that Hirsch shouldn't have his own show. He's that good. More of Abe will never be a bad thing. I loved the investigating he did with his own little Hardy Boys team. Just a really fun part of the show. I stand by, however, that Lucas is continually criminally underused. Joel David Moore brings a lot to the table, and I just don't think the show has quite figured him out yet. I hope they do, because everything he has done so far has been wonderful.
The case of the week format, while generally effective, doesn't always work for this show. This week's was kind of cool, with the famous guest star and the whole "Wolf of Wall Street" thing going on, but as a general rule, this show works better when it focuses on its great characters and an overarching story. Henry is a compelling character, but he's at his most compelling when they are exploring his past as it relates to his present. The more we explore the immortality, the more interesting the show can be. Unfortunately, this week didn't see a lot of that. We saw nothing of the enemy revealed in the midseason finale, either.
Ultimately, Forever is still toeing the line between good and great. The more exploration it does of its characters, and their histories, and their motivation, and the story of Henry's immortality and his also immortal archenemy, the more compelling it will become, and the harder it will lean onto the "great" side of the fence. It's more than capable of this accomplishment, but it remains to be seen where the show will go from here. I'm still optimistic (and based on next week's preview, I'm expecting a bit of a payoff in the character department).
What did you guys think of this week's episode? Back with a vengeance? Or just okay? Let us know!
[Photo via ABC]
Tell us what's wrong with this post? How could we improve it? :)
Let us improve this post!