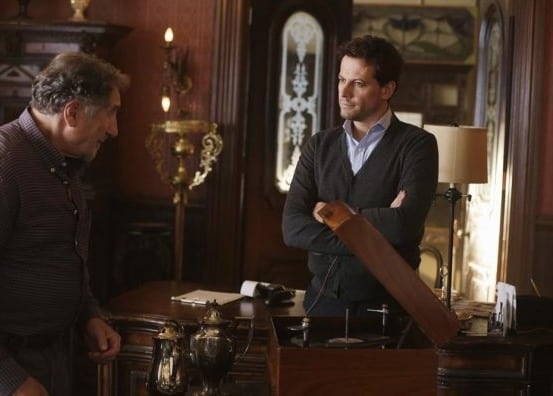 Forever, now in the 9th installment of its recently ordered full season, took a jazzy step forward this week. Our heroes investigated the murder of an amateur jazz musician, the son of a better jazz musician.
As a musician myself, I found the musical premise particularly interesting. I grew up playing the saxophone in the high school and college jazz bands. So of course, I recognized a crucial piece of evidence as a saxophone reed. I will always have a soft spot for jazz music, and it was prevalent both in the background and the foreground of the episode. Let's just say, I didn't hate it.
I've been complaining for 9 weeks that they haven't used Judd Hirsch and Joel David Moore enough. I'm thinking that the showrunners are starting to hear my complaints. I say starting, because I still think that there could be more of them, but I thought both of them were actually pretty well used. Lucas is just a hilarious character, and he's so much fun to have around. He happened to be an expert on something in this episode, and that was really exciting. I really enjoyed the use of Abe this week as well. Not only as a supporting player and an important character in Henry's life, but the flashback including Abe as a boy learning jazz for the neighbor. I thought the young boy was perfectly cast as a young Judd Hirsch, and the flashbacks really worked in this episode. Both Abe and Lucas were essential in solving the case, and that's when the show is at it's best.
In terms of the over-arching story, this episode was a step backward. It wasn't a bad episode, but in terms of Henry's development as a character, and any real long-term plot elements, there wasn't much to go on. I think (generally speaking) that Henry is a compelling character, and the story is a good one, but they didn't play to all of their strengths in this particular installment. I loved the flashbacks with Abe as a boy, but I think the flashbacks could be better used to build Henry's character. Though I guess these flashbacks helped solve the case, which is good enough.
I like this show, and I like that this is a mystery show, but I still think that the mystery could be better intertwined with Henry's character, and furthering of a larger story. They've done a good job with this a few different times (i.e. last week's episode), but sometimes I feel like they get ahead of themselves with fun mystery ideas and don't think about how to include it in the larger story. After last week I was extremely optimistic, but I've returned to my original cautious optimism this week. I liked the jazz story, and the story in general, but this episode just didn't do it for me. They've made great strides in the Abe/Lucas department, so they're halfway to reaching "excellent".
I'm enjoying Forever for the most part, so you shouldn't get me wrong at all, but I definitely see that it has room to improve, and I want to see it become the best it could possibly be. Not just for my own entertainment, but when you like a show you want it to survive.
What do you guys think? Did they JAZZ up the show this week? Are you still watching? Let us know!
Photo via ABC