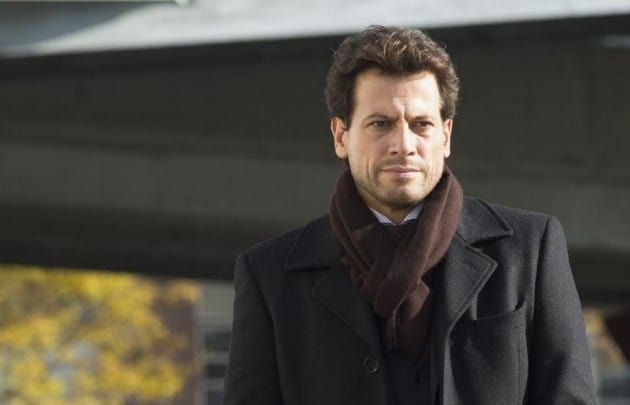 The first season of Forever has been good, but this episode really stepped it up a notch. The first ten minutes of the episode were simply the best that the show has put forth so far. Period.
Last week's episode ended with a shocking cliff-hanger, in which Henry was kidnapped by "Adam", the mysterious caller. The mysterious caller (sounds suspiciously like Judd Hirsch, btw) kidnaps Henry only briefly, just to prove that he is, indeed, immortal. And boy does he ever! Featuring Turn's Burn Gorman as Henry's new therapist, this episode was an excellent step forward. Hopefully, the show can continue the momentum it created when it returns from winter hiatus.
This was a masterful episode in many ways. In one way, they did an incredible job to humanize Henry. Being an immortal super genius can sometimes take the human elements out of you. When Henry was with the therapist, when he became a suspect in the case, and when he believed that Abe was in danger, he showed a whole new side to his character. He was panicked, and I could really feel what he felt (which was that he might have something to lose).
I agree with Henry's decision not to tell Jo his secret. Although I think it would've been an excellent twist to drop that bombshell early, there is a lot more sexual tension and will-they/won't-they's to sift through before we get to what I think of as more of a season finale moment. Alana De La Garza is a fantastic actress, and she really played well with Gruffudd in the episode. After this week's episode, I trust that her finding out will be a special moment to the show.
This is the first time that I wasn't upset about how Joel David Moore and Judd Hirsch were used. I mean, I still think overall they could be used better, but this episode was really good in terms of knowing how to use the characters, and even though it was to a lesser degree, using them well!
The mysterious twist at the end (I won't spoil it, and if you watch the show, you know) is that we learned the identity (or perhaps one identity) of the "Anonymous Caller". I suppose that would no longer make him anonymous? Anyway, the reveal was strong and a welcome twist. I'm looking forward to this character becoming part of the show, even in every episode if he is continually used well like he was this week. Anyone think that the observations Henry made about him will come back in to play? I certainly hope so!
Wow, Forever. I'm impressed. Just as I was beginning to tire at the nibbles and chipping away at Henry's character with murder mystery after murder mystery, they found a way to suck me right back in. This was easily the best Forever episode thus far, and I can only hope and pray that they continue their momentum through the break. I'm in your corner, Forever. Don't let me down.
What did you guys think of Forever's midseason finale? Did you like it as much as I did? Let us know!
Photo via ABC
Tell us what's wrong with this post? How could we improve it? :)
Let us improve this post!