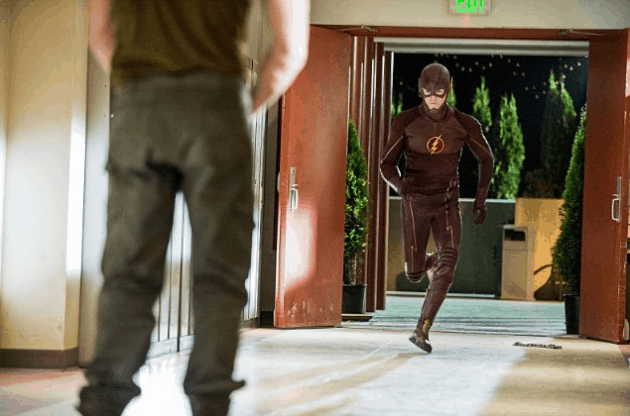 Last night's episode of the new CW hit series The Flash continued the greatness that is the fastest man alive with the introduction of DC Comics villain Tony Woodward (guest start Greg Finely) a.k.a. Girder while Joe and Harrison look into the murder case of Nora Allen.
While I was never familiar with the Girder character, I really enjoy what Finley did with him as he got to bring him to life for the first time. I was only briefly familiar with Finley from before after having seen him in an episode or two of Star-Crossed, and while he is one big man, he is a very talented actor. I was worried at first that Tony was going to be somewhat of the stereotypical bully-turns-super-bully kind of character and while there was some of that in the episode, his presence was memorable. The special effects for his Girder look were absolutely remarkable and fun to watch.
In a way, Girder is sort of the evil version of the X-Men hero Colossus (played by Daniel Cudmore in the movies), at least visually. It's interesting how this show was able to give us better character development as well as dialogue for this character in just one episode than Colossus had combined in three movies. I like that Tony and Barry had a past as it made the dynamic and the hero vs villain aspect more compelling because it was something personal to Barry than just another meta-human. We see him getting locked up at the end, meaning that we will definitely see him again soon maybe even sooner than you think.
"The Flash Is Born" also continued the arc between Iris and The Flash as they flesh out that relationship a lot more. I'm really loving the dynamic and for someone who has been reading Flash comics for over a year now, where Iris knows Barry's secret, it's amazing to follow this incarnation too. It does give me a lot of great Smallville vibes with The Flash having to be in the shadows and disguise his voice, and I really don't mind that because 1) his Flash voice is awesome (someone needs to make that an app) and 2) it's different from what I imagined initially. I'm glad, though, that by the end of the episode, Iris and Barry got over their differences and started hanging out again, including giving "The Streak" the name he deserves: The Flash.
I still can't stress enough how refreshing it is to have a character like Iris on television as Candice Patton is bringing several layers to the character. While there are obviously some similarities between her and Lois Lane, Iris is still a unique character that I love to follow each week. What is so admirable about her is her courage of asking questions even though sometimes, it can get dangerous for her, like in this episode with Girder. Patton is without doubt one of the breakout stars of this TV season and just following her character's journey is one of the highlights of the show.
We also got a great dosage of Rick Cosnett's Eddie who I have wanted to see a lot more of recently. He is a very fun character and we actually get somewhat of a bromance between him and Barry in this episode (I believe the ship name is "Beddy"), as they blow off some steam in the gym. We get some background information on him and I'm sorry, but I'm having a hard time imagining Eddie being fat as a kid since all he has been since day 1 is Mr. Golden Boy. But regardless, Cosnett got to flesh out the character more and that was greatly appreciated. It's interesting to see his impression of the meta-humans that are running around in Central City, which may actually come to play a bigger part in later episodes.
While all of that is taking place, Joe and Harrison spend a lot of time together as Joe wants Harrison to help him out with the Nora Allen case. They do reveal a lot more about Harrison as a character and give us some potentially true background on him. The tricky part about this character is that it's so hard to believe in anything that he says. But let's just assume, for the sake of argument, that he was honest about a few things, including Tess Morgan. Although it's intriguing that he moved to Central City very soon after Nora died , what is his deal? Is he the Reverse-Flash or somehow working with him? Even though Joe buys his reasons, which had nothing to do with Nora, we do get one heck of a post-credits scene. The man in yellow shows up at Joe's house, steals the case file while also making a promise that if he doesn't stop the investigation, he will go after Iris.
This show sure knows how to leave you hanging until next week and the question is, will Joe tell Barry what he saw? Only time will tell, but overall this was another solid episode that lived up to its title as Barry got his name, we got the introduction of a great DC villain and the world of The Flash continues to grow in spectacular ways.
The Flash airs on Tuesday nights, 8/7c on The CW.
Photo via The CW