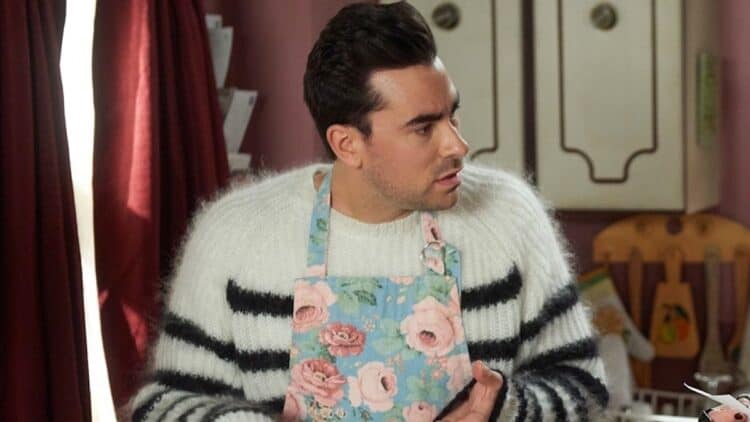 A popular streaming channel is set to drop a reality cooking competition this year, and it promises to feature good food, excellent chefs, expert judges, and a celebrity host. Here's a description of the premise of The Big Brunch, according to Deadline. "The Big Brunch celebrates undiscovered culinary voices from every corner of the country. Chefs will be offered the opportunity share their stories and their business dreams, while also competing for a life altering prize. All while finding innovative and personal ways to redefine what it means to dine between 11am and 3pm." Anyone who loves brunch should be able to enjoy this upcoming cooking competition show. Anyone who loves sitcoms should also be able to enjoy how this show will be presented to viewers. If you are excited to learn more about this show, look no further. Here are five things we know so far about the upcoming reality cooking competition show The Big Brunch.
The show is created and hosted by Dan Levy
Dan Levy, who is best known for starring and co-creating the hit Canadian sitcom Schitt's Creek, has created the show and will be hosting it as well for HBO Max. Levy will also be executive-producing the show alongside Andrew Fried, Dane Lillegard, Sarina Roma and Faye Stapleton. Levy is known to be the son of legendary comedian Eugene Levy, with whom Dan co-created Schitt's Creek. Levy also appeared in films like Stage Fright, Robot Bullies, and Happiest Season, costarring with Kristen Stewart and Alison Brie. This won't be the first time Levy will be hosting a cooking show; in 2017, he hosted The Great Canadian Baking Show, which was an adaptation of the UK's The Great British Bake Off. Speaking about his upcoming cooking show, Levy said, according to Deadline: "Everybody has a friend, a family member, or a co-worker that is extraordinary at what they do, they just need a leg up so that their talents can be appreciated on a larger scale. Thanks to an almost obsessive love of food, I've been lucky enough to come across many of those people in the culinary world — friends working out of cafes or food trucks, revolutionizing the menus at local diners — those special humans who create communities around their cooking, hoping to take their skills to the next level. I created this show for them, the local culinary heroes of America who deserve a spotlight. That, and who doesn't want to watch maple syrup being poured slowly over a golden stack of perfectly cooked, creme brûlée inspired French toast?"
It will be on HBO Max
HBO Max will be carrying The Big Brunch. Deadline reports that the streaming service has expressed excitement over the show's premiere. Sarah Aubrey, the head of original content for HBO Max, said: "What we love about this special show is that it serves more than mouth-watering culinary delicacies; it's about heart, a love of cooking and spotlighting talent whose unique skills elevate the beloved brunch menu. There's no better foodie or creative partner than Dan and the team at Boardwalk Pictures to celebrate those undiscovered voices, and, well, brunch, the best meal to indulge in decadent sweet and savory dishes that are fueled by cocktails and caffeine." HBO Max carries a few other cooking shows on its platform, including Selena + Chef, Take Out With Lisa Ling, Fast Foodies, Anthony Bourdain: Parts Unknown, Baketopia, and Family Style.
Sohla El-Waylly will judge
Sohla El-Waylly has been tapped to serve as a judge in this much-anticipated cooking competition. El-Waylly is an American chef, restaurateur, and YouTube personality. She served as an assistant food editor at Bon Appetit, one of the most prestigious food magazines in the world, and frequently appeared in their YouTube videos. Currently, she hosts a web series for the TV network History called Ancient Recipes with Sohla. She also hosts a show for the New York Times Cooking YouTube channel called Mystery Menu.
Will Guidara will also judge
Restaurateur Will Guidara will also judge The Big Brunch alongside Sohla El-Waylly. A veteran of the hospitality industry, Guidara co-owned the Make it Nice hospitality group, which owns and operates Eleven Madison Park, NoMad New York, NoMad Los Angeles, NoMad Las Vegas, NoMad Bar and Made Nice. Guidara is a graduate of Cornell University School of Hotel Administration in 2001. Aside from his work in the hospitality industry, Guidara also co-wrote four books, Eleven Madison Park: The Cookbook, I Love New York: Ingredients and Recipes, The NoMad Cookbook, and Eleven Madison Park: the Next Chapter. On his Instagram page, Guidara expressed excitement over his inclusion in the show, captioning a post about the competition show saying: "Never in a million years did I think I'd be part of a cooking competition show, but to be on one that was designed to help people in such meaningful ways is a special kind of joy. I'm so proud to stand alongside @instadanjlevy and @sohlae on a platform that's rooted in providing opportunities to a group of very deserving chefs. To get to show hospitality to the same people we're there to judge is pretty awesome. Welcome to The Big Brunch, coming later this year on @hbomax."
Contestants will come from different backgrounds
The casting call for The Big Brunch is actively seeking contestants from a diverse set of backgrounds. From the casting page of the show, they announced: "Dan – along with a team of experts – is setting out to find undiscovered culinary voices from across America by offering them the opportunity to compete for their big break. Whether you're the owner of a neighborhood gem making an impact in the community, a sous or executive chef with entrepreneurial dreams, or a food truck or private chef changing the lives of everyone you feed, come join us in a friendly competition that will raise a toast to talented chefs and celebrate the underdog of meals…BRUNCH!" A few requirements include the contestant being at least 21 years of age and a U.S. resident. You're also required to attach a photo of yourself as well as photos of three of your signature dishes.