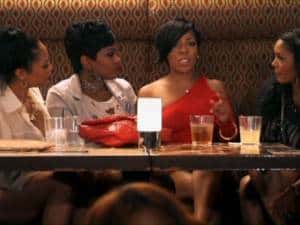 While Stevie J (aka McMessy) was getting those paws put on him by Joseline (aka Skynet from the Terminator movies) on this past week's episode of Love & Hip Hop: Atlanta, there were some other interesting developments that ended up on the cutting room floor.
VH1 released four deleted clips from this past week's episode titled "Three's Company" that didn't make it to our television screens, because they had to make room for that beatdown Joseline served Sir Stevie J. Some of the clips are sure to raise your eyes while one might make some of you press your TMI button when it comes to what K. Michelle gets into on her spare time. The other half might request for pics of Ms. Michelle's extracurricular activities in the bedroom when no one is watching. Just saying.
The first clip features K. Michelle and Shay "Bucky" Johnson, Lil' Scrappy's best friend/new girl, as they discuss Shay's relationship with Scrappy, something that K. Michelle makes known that she is not down for.
The clip should have been included in the final airing, because I'm pretty sure that this isn't the first time Shay's relationship with Scrappy will become an issue with one of the women since Erica is their friend. Did you count how many times Shay and K. Michelle fooled with their hair towards the end of the clip? Also, didn't K. Michelle look violated when Shay hugged her after she told the girl not to? Yes, this should have made the final cut.
The next clip is a weird one, because it really took place during last week's episode and just wouldn't fit into this past week's episode at all. With that said, Stevie J had planned to bring Joseline and Mimi to counseling together all along, which means that beat down was most necessary at the end of the day. Slick. But… you have to give this man props for innovation when it comes to his relations.
While Stevie J is considered "The MAN!" by many, he sometimes comes across as goofy, dorky, and a bit needy when it comes to attention. At times. As for Joseline… I'm surprised to admit this, but bit by bit she's gaining my love and it's worth every drop.
Speaking of surprises and Joseline, this next clip shocked the hell out of me, because I would have never have guessed that Joseline and Karlie Redd would be besties after that conversation they had in the main episode. Now they are cheering each other while riding a mechanical bull? Are my eyes deceiving me?
Talk about an odd couple… Wonder how long their 'friendship' will last? Plus, Joseline? Maybe you should forgo a return to the strip club (if your career doesn't work out) and make a profession out of riding a mechanical bull as if you're making love to it. I'm sure the dollar bills would be flying as easily as confetti on a good night. Just a suggestion!
Finally, we have K. Michelle talking to Rasheeda about going on vacation and finding herself, which means she'll going hardcore celibate to appease her goals. Listen to the lengths K. Michelle's willing to go to make this happen.
Damn, K. Michelle, you get down like that? To the point you got to bring in the aspirin from all the banging on the headboard? How are you still single?!?!
What do you guys think about these extra clips from Love & Hip Hop: Atlanta? Did they add to the ratchet-factor? Or do they belong on the cutting room floor?
Photo Credit: VH1
Tell us what's wrong with this post? How could we improve it? :)
Let us improve this post!