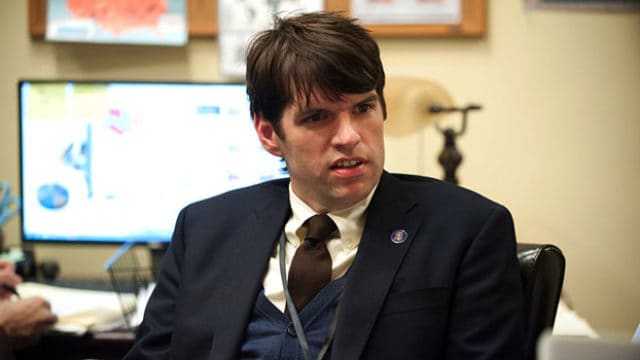 The best part about falling in love with a show or movie is forgetting that you are watching one; becoming completely immersed in the story is what allows viewers to feel passion and emotion. Some actors are so adept at giving convincing performances that fans forget to separate the actor from the character. This can be for better or for worse, depending on the traits which define the performance.
Such is the case with the towering and highly talented Timothy Simons. Simons, a star of the wildly popular Veep, portrays a White House liaison named Jonah Ryan. This character is known for to be disliked by just about everyone he encounters. Simons, on the other hand, sometimes surprises fans with his affable, down-to-Earth nature. While many might assume Simons is obnoxious and rude like the character he portrays, he is actually a highly talented and hard working individual. To help shed some light on who he is as a person, here are five of the most interesting facts about Timothy Simons.
5. He has a happy family
Very few actors land starring roles in shows as popular and critically acclaimed as Veep. Achieving such fame and success in the entertainment industry often unfortunately comes at the cost of one's personal relationships. With the wealth, travel, and glamour that comes with such success, a great deal of strain can be put on marriages.
Simons is one of the few exceptions to this rule. He married his wife, Annie, in 2008. Not only are the two happily married today, but they also have a set of twins. With their son and daughter, Timothy and Annie Simons are one of the inspiring families which seem able to withstand the pressures of life in the entertainment industry.
4. He is highly educated
The reason why so many fans are surprised when they realize that Simons is radically different from the character he portrays on Veep is that his performance is so effortless. However, this does not mean that he has gotten by on natural talent alone. Instead, Simons has devoted a great deal of time and effort to perfecting his craft.
His investment in education includes a degree in theater from University of Maine, which he earned in 2001. In addition, he studied at the prestigious Upright Citizens Brigade in 2009.
3. His roots are in theater
Naturally, most fans know Simons as a star of one of today's most prominent and popular television shows. However, his early acting work was actually on stage instead of screen. While studying, he was a member of Maine Masque, a student theater group. As well, he fell in love with the Chicago theater scene. For several years, he was an avid fan and participant in the city's independent theater productions.
2. He found success by taking a risk
Becoming a successful actor is one of the most difficult feats one could set out to achieve. Not only does it require a significant amount of talent, breaking into the entertainment industry often requires connections. For this reason, Simons' success is all the more impressive.
When he made the move to Los Angeles with his wife, Simons had nothing even resembling a connection in the industry. He simply believed in himself and decided to pursue his dream despite having no job lined up. It is always inspiring to see such courage rewarded with success.
1. An appearance in a commercial changed his fortune
When actors talk about their "big break," it usually does not revolve around a role in a commercial. Simons, on the other hand, can attribute a great deal of his success today to a part in a Geico commercial in which he played Abe Lincoln. This commercial, which aired in 2010, was seen by a casting director for Veep. Incredibly, this small performance earned Simons the opportunity to secure the part which now defines his career.
Conclusion
When actors truly perform to the best of their abilities, it brings shows and movies to life. When this happens, it is easy to forget that the actors are separate from the characters they portray. However, actors like Timothy Simons are the perfect illustrations for why keeping the two separate is important, as he could not be more different than his portrayal of Jonah Ryan.
In contrast to his offensive and universally disliked character on Veep, Simons is charismatic, hard working, and brave. Such qualities, combined with his natural ability, will almost certainly ensure that he enjoys a long and successful career.
Tell us what's wrong with this post? How could we improve it? :)
Let us improve this post!