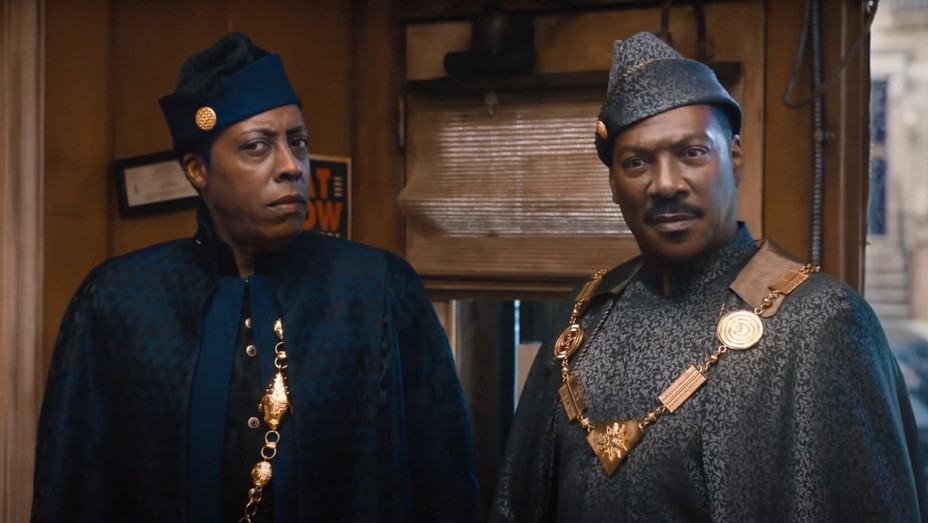 People that are stating that this movie had the same 'bite' as the original really need to remember why the original was rated R and this current movie is rated PG-13. Coming 2 America wasn't a bad movie but it was enough to make a person roll their eyes on occasion since it covered several topics that have been argumentative points over the years. In terms of how it stacks up to the original movie it does feel that the original will always be considered better since it was on point for its time and while some might want to state that it was highly offensive and had its fair share of problems, it was also a product of its time. The sequel is a return to something that felt as though it could have stood on its own, but as sequels are a part of the overall cinematic desire at this time, it's hard to speak out against it since there have been moments when sequels have gone on to become quite famous and hit the mark just as they need to. This one though does cross the line when it comes to virtue-signaling in a big way, and yet it crosses the line again like a metronome almost as though it's realized that alienating too many people on either side of the social divide would be unwise.
The story is pretty simple. Prince Akeem is set to become king at some point since his father, who is again played by James Earl Jones, is set to pass on any day. Unfortunately, he has only daughters and that means that he has no heir to the throne of Zamunda. That pleases General Izzi, played by Wesley Snipes, just fine since he has a son that is willing to marry Akeem's eldest daughter to unite their kingdoms. It's when Akeem learns that he has a son that things go haywire as he and Semmi make a trip to New York once again to find this son, whose name is Lavelle. Of course, Lavelle doesn't fully believe Akeem's story, though he does take him home to meet his mother, played by Leslie Jones, who, as Semmi tells it before he and Akeem left for New York, was his attempt to help Akeem 'sew his royal oats', as Semmi puts it. The problem is that the woman ended up drugging Akeem and then became pregnant due to their encounter. So in other words, Semmi made a mistake because he wanted sex, and Jones' character had sex with a man that was baked out of his mind since all he remembered was being attacked by a wild animal. Oh yes, he does say this in the movie.
One of the more telling moments in the movie comes when Lavelle goes on about how he doesn't want handouts, has all he needs, and so on, and the briefcase that Semmi carries into their apartment pops open, revealing stacks of money and gold. Within the span of a few seconds the attitude 'not needing handouts' switches to being overwhelmed by the riches laid out before them and a need to not be 'too hasty'. A lot of people will see the comedy in this, and yeah, it's definitely there, but so is the message. You can have your pride and hold your head high, but a lot of people will no doubt let that pride slip to the side the moment one sees something akin to free money. Lavelle eventually finds out that being a royal is no picnic since he's expected to marry a princess and has to learn what it means to be a part of an entirely different culture. But what does end up happening is that he marries someone he falls in love with, who is not a royal, much like his father, and he becomes the Zamundan ambassador to America, while his eldest sister will rule the kingdom, as Akeem comes to learn that ways have to change eventually. Even General Izzi, who was set to go to war with Zamunda, learns the error of his ways and becomes an ally instead. In short, it's a happy ending that one can only hope will be how this particular tale is allowed to rest for a while until someone finally comes along wanting to reboot the entire thing. Oh come on, you know it's coming.
All in all, the movie wasn't horrible and it wasn't such a blockbuster that it's going to be something that people will talk about for years to come. But the ability to offend and then placate certain sensibilities, if anyone was even bothering with such things, was kind of impressive. It was a well-told story that brought back several characters and even a few that people didn't expect, so it was a nice attempt to, hopefully, cap off an already popular story.