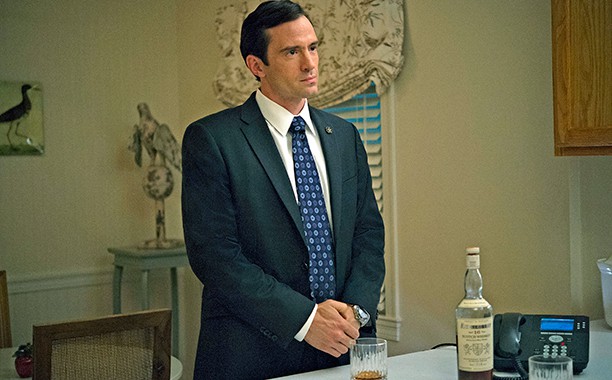 Nathan Darrow is an American actor who is best-known for his House of Cards role as Edward Meechum, who started out as a short-term hire but managed to rise to the position of the head of the President's detail before shooting and being shot by an assassin on Season 4. However, it is important to note that he has had other roles as well over the course of his acting career, with theater productions having been a particular focus.
Here are five things that you may or may not have known about Nathan Darrow:
Trained in New York City
As a teenager, Darrow attended Shawnee Mission North High School in Overland Park, KS. After his graduation, he studied for his bachelor's degree at the University of Evansville, which can be found in the city of the same name in the state of Indiana. However, it was at New York University's theater department that Darrow acquired the expertise and experience that he needed to launch into an acting career.
Performed in Kansas City
Having completed his graduate studies at New York University, Darrow returned to the state of Kansas, where he began acting in theater productions. Some of those theater productions were of Shakespearean plays such as Henry V and Romeo & Juliet, while other theater productions were more recent works such as Ambrose Bierce: Civil War Stories. Regardless, each role provided Darrow with that much more support as well as that much more momentum, thus building up towards the present.
Cast In House of Cards Because of Richard III
Now, Darrow is best-known for his role as Edward Meechum on House of Cards, but it is interesting to note that it would have never happened if it hadn't been for his theater career. After all, he was cast because of his participation in Richard III, which lives up to its name by being focused on the ruthless rise of Richard III of England, his short-lived reign, and his fall at the Battle of Bosworth Field, thus paving the path for the House of Tudor on the English throne.
Played Victor Fries on Gotham
Since his success on House of Cards, Darrow has been cast in a number of other roles on TV shows. For example, he played Victor Fries on Gotham. Given the TV show, it should come as no surprise to learn that the character is one of the numerous rogues in the Batman mythos. To be exact, Victor Fries is the name of Mr. Freeze, the one-time cryogenics expert who commits crimes for the sake of funding his research into a cure for his terminally-ill wife. The Gotham character is not identical to the character from other Batman media, but the core characteristics remain much the same.
Played John Custer in Preacher
Gotham is not the only TV show based on comic books in which Darrow has had a role. In brief, he played John Custer, the father of the protagonist Jesse Custer in Preacher, which is based on the comic book series of the same name. With that said, Darrow's appearance on the TV show was relatively short, which is rather unsurprising considering that his character was killed in a flashback.
Tell us what's wrong with this post? How could we improve it? :)
Let us improve this post!