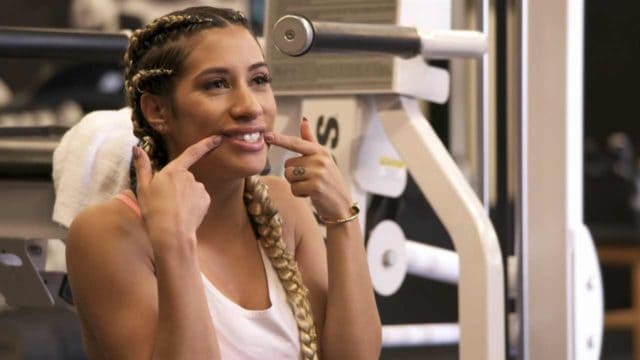 Michelle Quick is a reality television star who is the best known for her appearance on the E! network show "WAGS." The show is in its second season and follows Quick in her life as the wife of am NFL player. We see how her husband's career affects her life and how she deals with it. We've learned through the show that she is a dedicated wife that any husband would be proud of, but here are five things that you didn't know about her.
She has a large following of fans
Michelle Quick maintains a healthy presence on social media. Among the numerous people who are fans of hers, many show their love and support on Instagram. She has over ten thousand followers on Instagram alone. Michelle keeps them updated on what is going on in her family life and it's obvious that her followers care about how things are going for the NFL wife.
She was born in El Salvador
She is known to the world as Michelle Quick, the wife of NFL player Brain Quick. She was born as Johanna Michelle Beltran. Although born in El Salvador, her family moved to the United States. She was actually raised in California.
She and Brian have not been married long
The couple became engaged in August of 2015. It was just a short three months later that they officially married in December of 2015. The couple will celebrate the second anniversary of their wedding on December 19th of this year. The couple are parents to two children, their daughter Cali Brielle and their son Jaiden.
Michelle is working on a career of her own
Michelle is kept busy being the wife of an NFL player who faces the threat of being traded and moving residences. This makes it difficult to establish a permanent career in any one place. Compound that with being the full time mom of two young children, and it's fair to say that Michelle has her hands full. She still finds time for her career as an actor. The young reality star just recently appeared in the second season of "Wags" and she's also been invited back for the third season. She hasn't indicated what she plans to do in the future, but we'd say that she's off to a good start.
Michelle is committed to traditional family values
Michelle has chosen the path of marriage and children and put these priorities above establishing a career first. She has more traditional values that are becoming less common as more women are placing marriage and children on hold until they've achieved set career goals. Michelle supports her husband in his career one hundred percent. She shared that her life with Brian takes his career into consideration and in her mind, being the life of an NFL player is a lifestyle that she is doing her very best to adapt to. To work on her own career ,she's involved with the reality tv series that allows her to enjoy a professional career while being a wife and mom at the same time. We'd say that this traditional wife and mother is nothing short of brilliant.