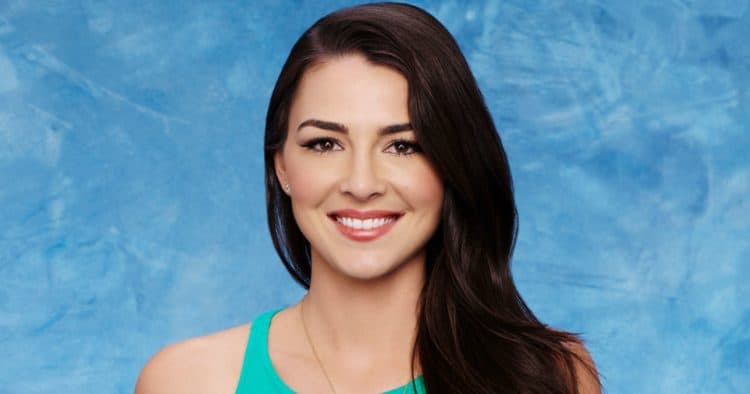 Love is beautiful, but it might be hard to find. We all struggle to get it, and some are never successful in finding it. Jen Saviano is one who has been battling to find her soulmate but has not been successful. Born on November 22, 1989, in Florida, Jen has been through a lot in her quest for love. At some point, she was close to winning the heart of the person she loved, but things changed in the last minute. Despite the disappointments, Jen remains a happy woman and keeps herself busy. She is part of season 6 of Bachelor in Paradise. Get to know more about Jen by checking out these facts about her.
1. She is a college graduate
Jen started her education and joined St Thomas Aquinas for her high school education. She later went to Flagler College between 2008 and 2012, where she graduated with a Bachelor's degree in psychology. During her time in school, she played tennis and represented the school in many competitions.
2. She runs a lifestyle and travel blog
Jen is not only an actress in the reality show but is also a blogger. She has a blog where she writes about lifestyle and travelling. Jen posts on her blog on matters of losing weight and living a healthy lifestyle. She uses her Instagram and Twitter to advertise her blog called Miss Lifestyler. Jen has been to many places and recommends the best places for people to visit in her blog. She also keeps updating the blog on anything new that she finds it suitable for a healthy lifestyle.
3. She got a rejection on TV moments before winning Nick's heart
Being dumped is one of the worst experiences, especially when it is on TV. Jen was dumped by Nick moments before he became the bachelor in Bachelor in Paradise. The two had been serious all along as they had been to dates together where they enjoyed. According to Distractify, Nick says that he was to choose her, but something kept telling him not to. Jen had to accept the situation though she was deeply in love with him. Nick still thinks that he loves her, but an inner voice keeps telling him to say no to her.
4. She is popular on social media
Television appearances and fame go hand in hand. Jen is famous on both Twitter and Instagram. She uses the two social media platforms to update her whereabouts and to communicate with her fans. Jen has 208k followers on Instagram with 1,397 posts. She is one who has traveled to several parts of the world as we can see photos of her in several places. Jen is fun-loving and spends time with some of her friends in affluent areas swimming and eating high-end foods. She has 26.4k followers on Twitter and Instagram is her favorite platform, where it is easier to know more about her.
5. She has an online boutique
Jen has an online boutique called Hot Pink Hanger. This boutique is more about exploring her passion since she is in love with outfits. To appear in front of television needs you to be at your best and as she revolved around the available items of clothing, she decided to open a boutique. Customers can check on the available clothes and beauty products and place their orders.
6. Family
Jen has been brought up alongside her sisters. Her father comes from a family with nine siblings, making her have a large extended family. Her family has always been loving and supportive. When she started playing tennis, her dad accompanied her to the competitions. She always creates time to visit the other relatives from the extended family since most of them live in California.
7. She is single
After being dumped by Nick, Jen was not happy and went on to live a single life. She had to take time to heal and then start concentrating on her own life. According to Romper, the two ended their love affair on a good note. Jen says that after the breakup, she started watching videos about losing someone you love in 10 days. She is currently enjoying her single life with her friends. A look at Jen's Instagram account clearly shows that she has no men around her. Most of her pictures are of her taking meals, swimming and hanging around with fellow ladies. Despite being single, she is still hoping to find love in the show.
8. She is eyeing Chris in the next episode of Bachelor in Paradise
Jen is part of season 6 of the show where she will be struggling to win the heart of Chris Bukowski. Chris has been to dates with Kartie Morton, and Jen is not happy about it. She thinks that Chris is starting to build his relationship with Kartie, and it might lead to her losing it again. She is probably going to cause drama in the show as she cannot imagine going down the road of heartbreak again.
9. She avoids too much alcohol to maintain her weight
Jen drinks alcohol but is not a habitual drinker. After breaking up with Nick, she reacted by buying pizza and a bottle of wine. Jen portrays a culture of using alcohol as a way of handling stress. According to Shape, she says that alcohol consumption should be in low limits to assist in maintaining body weight. She finds drinking too much wine a way of adding up to her weight.
10. She is a tennis player
Jen is a tennis player who has been playing the game for over 15 years. She has participated in many competitions where she has been ranked among the best. Jen spends most of her time playing tennis and hence does a lot of exercises. The game has assisted her in avoiding straining on options of keeping fit, and Jen does not need a body fitness center to keep her in shape.
Tell us what's wrong with this post? How could we improve it? :)
Let us improve this post!