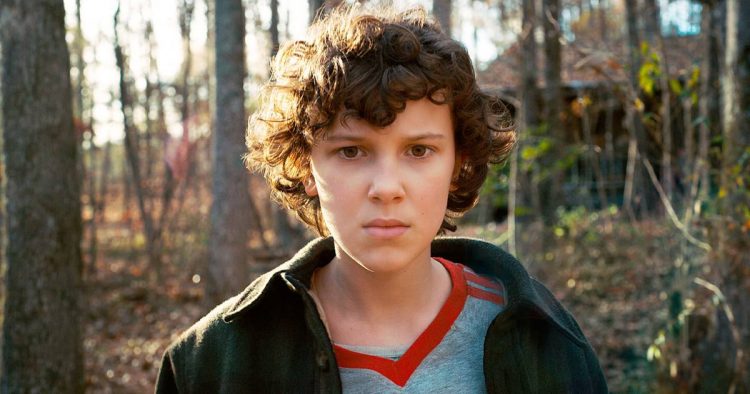 There's no doubt that Millie Bobby Brown is a success as a teenager, but trying to gauge whether she'll be just as successful as an adult is kind of difficult since we can't see into a crystal ball the way they do in the movies. So far all signs seem to point to yes since she's been tearing it up on the Hollywood scene thus far and there's no reason to believe that she'll be fading away anytime soon. After all her continued success in Stranger Things and her upcoming movie, Godzilla: King of the Monsters, are already pulling down millions of interested viewers that are awaiting the highly-anticipated return of their favorite screen stars. So it would seem that she has a well-laid map of a success in front of her, but it also seems as though she's going to need to navigate it just right in order to really do something great with it.
She's already got a few projects that are in the middle of production or have just been announced, and as you can guess, Godzilla vs. Kong is one of them as she'll be taking on the same role she's already playing in the upcoming Godzilla movie. Thinking that she might be a fixture in the budding Monsterverse seems like it might be a foregone conclusion, but it's also reasonable to think that she'll start branching out as she gets older and finds that she doesn't want to be typecast as the type of actor that only shows up when there's a great idea for a monster movie. There are worse things in life to be honest but at the same time you can't help but think that it would be wise for her to take on other projects that would be just as daunting. So far in her career she's been best when seen in a horror perspective since that's how we've grown used to her. But as she continues to get older it seems fair to say that she might venture out even further than she already has in order to see just how far her talents can stretch. If you can recall, a lot of actors have started out in various movies and have tried to break out of the mold for the longest time only to find that they're remembered for one or two characters despite all they've done.
Millie is in a great position to transition from horror to something, anything else at this point since Godzilla's world is slowly but surely opening up as more and more of his enemies are being revealed and the epic showdown we've been waiting for is going to be happening eventually. From that point there's still a few ideas that could possibly be pushed to keep the franchise going if it becomes something that the studio decides is worth it. Whether Millie wants to stick around however will be interesting since at this point it looks as though her career could be moving on not long after Godzilla vs. Kong. What she'll be doing, where she'll go, and whether or not she'll be successful is hard to say but at this point there's a lot of faith in Millie since she's showed us enough to stoke the belief that she'll be just fine when it comes to taking on any role that she auditions or is picked for.
From the first time she came on screen she was something special since quite honestly she has a kind of look that suggests that while she can play innocent and afraid she's also capable of something that takes some actors a long time to cultivate, a kind of spirit that carries her through one scene after another with the kind of instinct that is hard to really notice but is evident when the show is done and over with and you realize just who you remember the most. It's true that her character, Eleven, is supposed to be a major focal point in Stranger Things, but at the same time her role could have flopped heavily if she hadn't had the kind of talent that she displayed with such ease. There's no doubt it took her a while to really nail the part down, but at the same time it's just as evident that she's got plenty left in the tank and is just warming up when it comes to her career. Godzilla: King of the Monsters is going to be another test of her abilities that many people are going to be looking forward to since she's established herself as something of a powerhouse when it comes to acting, and therefore has had a lot of expectations laid upon her. Then again, so has the movie, and as Corey Chichizola of Cinema Blend has written, it's probably going to better for fans if they go to see the upcoming Godzilla movie in the theaters, so as to get the full experience.