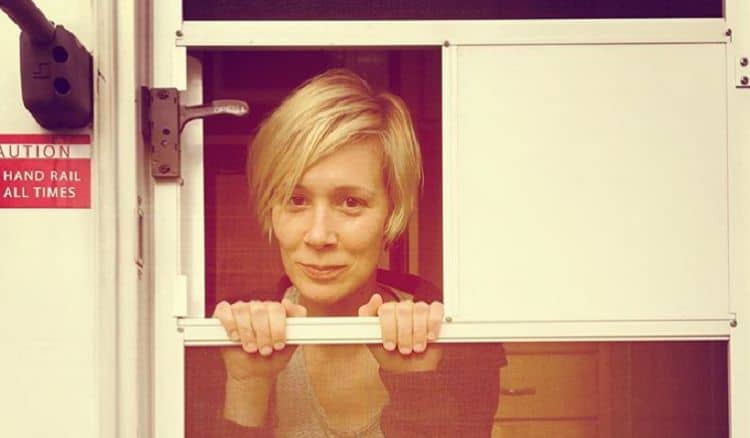 If you are a fan of Gilmore Girls or How to Get Away With Murder, you obviously know who Liza Weil is. After all, Liza was Rory's frenemy, Paris, on GG and currently stars as somewhat secretive Bonnie Winterbottom on HTGAWM. Just like her character on the hit ABC show, Liza Weil is pretty quiet when it comes to her personal life. To help you get to know the star, here are 5 things you didn't know about Liza Weil.
Her childhood was a tad unorthodox.
As a child, Liza, who practices Reform Judaism traveled all over Europe with her parent's comedy troupe, the Madhouse Company of London, and the "extremely eccentric people" who were involved in show. She often describes her childhood as "colorful" and the catalyst for her own career in acting. In one interview, Liza said, My parents would take me along when they would play venues and…I'd sit in the audience and watch them do their act. I don't know who wouldn't find that appealing. It's kind of magic when you're a kid." Eventually, her family settled down for a more traditional life in Pennsylvania.
Before committing to acting, Liza considered a completely different career path.
While Liza always had a desire to act, this wasn't the only career she considered. In fact, her career aspirations leaned towards becoming an archaeologist. So, what brought this one? Apparently, Liza went through a period where She had a bit of an obsession with the Indiana Jones trilogy, which was probably linked to her gigantic crush on Harrison Ford. Eventually, Liza decided she wasn't meant to be an archaeologist, primarily because she didn't do very well in school and never attended college.
Liza never dreamed she'd be able to pull off short hair until she agreed to make the cut.
While starring as Paris Gellar on Gilmore Girls, Liza had long blonde hair, which is also what She sported when She auditioned for her part on How to Get Away With Murder. When filming the pilot, the show's makeup artist, Sergio Lopez, asked her about a haircut to fit the look he'd created for each character. Liza agreed and was amazed to be able to pull it off. She revealed in an interview with Coveteur, "I had secretly always wanted it (short hair)".
Initially, Liza auditioned for the part of Rory Gilmore.
When auditioning for Gilmore Girls, Liza had her sights set on playing Rory. Liza definitely had no intention of being cast as someone like Paris Gellar, a character She had absolutely nothing in common with. Unfortunately, the role of Rory went to Alexis Bledel. However, the show's creator Amy Sherman-Palladino knew that she wanted Liza to be on the show. Amy stated, "She's unbelievably brilliant — she's like a master comedienne so I just wrote her in."
She's been dating her co-star for over a year.
Although they were able to keep it quiet for more than a year, it has been confirmed that Liza has been dating her HTGAWM co-star, Charlie Webber, since at least July 2016. Apparently, their relationship started right after her divorce from Paul Adelstein was finalized in March 2016. Liza and Paul were married for 10 years and have a daughter, Josephine. Though they've kept it quiet, Liza and Charlie are still dating.
Save
Tell us what's wrong with this post? How could we improve it? :)
Let us improve this post!