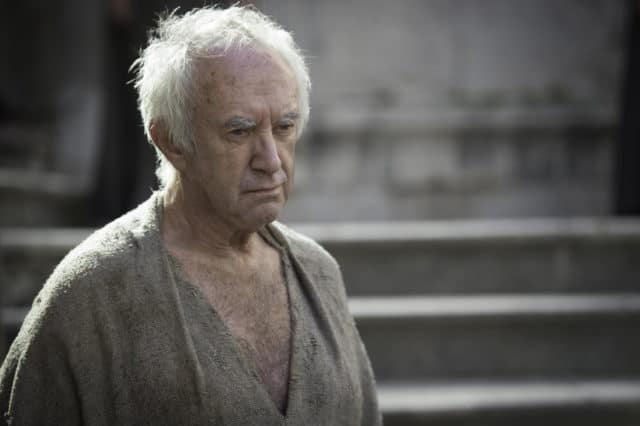 Jonathan Pryce is a Welsh actor of some note. A lot of people will remember him best as the High Sparrow on Game of Thrones, but it is important to note that he has had a long and successful acting career before that point. For proof, look no further than the fact that he has won not one but two Tony Awards for his performances on the theater stage.
Here are five things that you may or may not have known about Jonathan Pryce:
Was a Velvet Painting Salesman
Initially, Pryce had planned to become a teacher. However, his involvement in production for college theater resulted in a recommendation for him to consider becoming an actor. As a result, Pryce applied to the Royal Academy of Dramatic Art, which provided him with a scholarship in addition to admitting him. However, Pryce also supported himself throughout this period by being a door-to-door salesman of velvet paintings, which are paintings painted on velvet as opposed to some other material such as canvas and paper.
Broke Through in Brazil
Pryce broke through because of his role in the cult classic Brazil, which is named for a Brazilian song with a name that translates to "Watercolor of Brazil" that serves as the movie's theme song. In it, Pryce played the lead character Sam Lowry, who is fed up with living in a dystopian world with more than a passing resemblance to that of Nineteen Eighty-Four, though this one is much more buffoonish in character. Regardless, suffice to say that things work out about as well for Sam as things worked out for Winston in Nineteen Eighty-Four, which is to say, not at all.
Won an Olivier Award for Playing Hamlet
In the 1980s, Pryce managed to win an Olivier Award, which is handed out by the Society of London Theatre to honor those who have shown excellence in London's professional theatre scene. Said award was handed out for Pryce's performance as Prince Hamlet in Shakespeare's Hamlet, which is a challenging role to say the least because of the character's sheer range of emotions. At the time, his performance was so well-received that some people called him the definitive Hamlet of his generation.
Won Another Olivier Award for Miss Saigon
Speaking of which, Pryce won another Olivier Award for his performance as the Engineer in Miss Saigon, which was about an Asian woman abandoned by her American lover in much the same manner as Madame Butterfly. For what it's worth, Pryce was actually the one who originated the role of the Engineer in the initial production of Miss Saigon in the West End, which also won him one of the two Tony Awards mentioned at the start.
Played Shylock in The Merchant of Venice
More recently, Pryce has played Shylock in The Merchant of Venice at Shakespeare's Globe, which is the complex boasting the modern reconstruction of Shakespeare's own Globe Theatre. Regardless, his performance was notable because it saw him playing Shylock while his real-life daughter Phoebe played Shylock's daughter Jessica.
Save