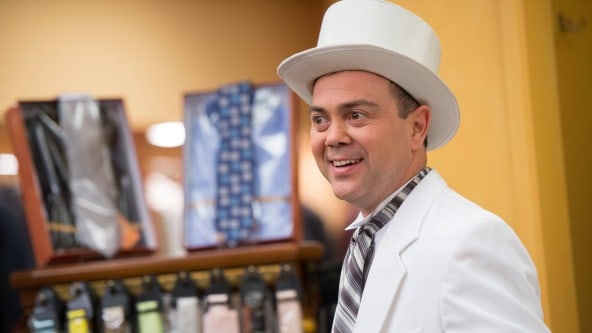 Almost everyone has dreamed of living life as a movie star at some point. Earning an incredible income while acting is certainly attractive, but most people dream of the fame. Unfortunately, even some highly successful and talented actors do not achieve widespread fame. One of the most underrated and underappreciated actors working today is the highly accomplished Joe Lo Truglio.
Lo Truglio currently stars as Charles Boyle on Brooklyn Nine-Nine. The extremely popular show was just recently renewed for a fifth season, much to the delight of its many fans. In addition, he has appeared in many iconic films and shows such as Superbad and Reno 911! However, despite his incredible talent and experience, he has yet to earn widespread recognition. As more and more eyes tune in to see him on Brooklyn Nine-Nine, hopefully more people will realize how much he has contributed to their favorite productions.
Until then, here are five of the most interesting facts about the hilarious Joe Lo Truglio.
5. He is a very prolific actor
Those fans who have only gotten to know Lo Truglio through his performances on Brooklyn Nine-Nine may assume that his career is just at its outset. However, he is actually an incredible active actor. On IMDb, he has over 90 acting credits, dating back to the early 90s. In fact, it is highly likely that he has appeared in films and shows that most fans do not realize. Some of his most notable films include Pineapple Express, Role Models, and Wanderlust.
4. He met many future co-stars at college
After high school, Lo Truglio went on to study at the prestigious New York University. Here, he would meet many actors with whom he would work in the future. As a member of the university's sketch comedy group, he worked with members like Michael Showalter and David Wain. Lo Truglio and the other members of the sketch group would form the cast of the MTV show The State. In addition, the group would go on to collaborate on many future projects.
3. Joe Lo Truglio Net Worth
Despite his relative lack of fame, Lo Truglio has earned a considerable personal fortune during his long and successful career. While fans are beginning to tune in to see this talented entertainer, his value has clearly been acknowledged by Hollywood. His current net worth is estimated to be about $2 million. This impressive sum has, naturally, been accumulated through his many performances in film and television. With the renewal of Brooklyn Nine-Nine for a fifth season, it is safe to assume that his net worth will continue to rise.
2. He has acted with his wife
Lo Truglio is married to the highly talented and popular Beth Dover, of Orange Is the New Black fame. The two married in April of 2014, and now have a son named Eli. Interestingly, the two skilled actors have combined their talents on several productions. This includes the Brooklyn Nine-Nine episode "Fancy Brudgom," and in Wet Hot American Summer: First Day of Camp. While many people find it difficult to combine work and relationships, it seems that this power couple enjoy sharing the screen. This may be one of the most talented and underrated celebrity couples around today.
1. He is an accomplished voice actor
Naturally, most fans of Lo Truglio associate him with his hilarious and charismatic performances in film and television. However, he has also seen a great deal of success in other ventures as well. Most notably, this includes voice acting. Lo Truglio has emerged as a highly successful voice actor, lending his talents to games such as Grand Theft Auto: San Andreas and Grand Theft Auto: Liberty City Stories. As more people begin to appreciate Lo Truglio for his abilities, it may be interesting to realize that he is successful in several industries.