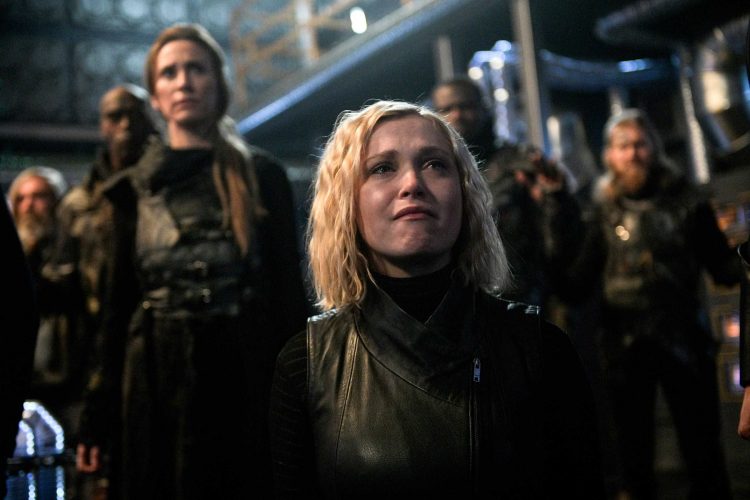 For those who are unfamiliar, The 100 is a sci-fi drama on The CW. In short, it is set in a future in which nuclear weapons have rendered much of the planet uninhabitable, thus resulting in huge changes for the small number of human survivors. For example, there are the Grounders, who have managed to survive on the surface of the Earth but have been forced to return to a clan-centered existence because of it. Likewise, there are the Mountain Men, who are the descendants of those who managed to hole up in Mount Weather, which was once the FEMA command center. However, it is those who fled into outer space who move the whole show into motion, seeing as how The 100 refers to the 100 juvenile detainees who have been sent to scout the Earth because their space-bound home is running out of living room.
Very recently, Season 6 of The 100 came to a conclusion. As a result, it is perhaps unsurprising that the show has seen such significant changes compared to when it started up in 2014. For instance, the show is no longer situated on Earth, which has undergone a second nuclear apocalypse thanks to hundreds and hundreds of nuclear reactors melting down at around the same time thanks to a total lack of maintenance. Instead, the show is now on a new habitable planet called either Alpha or Sanctum, though a lot of the cast members remain the same. Regardless, there are a lot of people who are now focused on Season 7 of The 100, particularly since the Season 6 finale left a lot of questions that interested individuals would like to have answers to.
Here is what we know about Season 7 of The 100:
It Is the Last Season
It is interesting to note that the renewal of The 100 for a seventh season was confirmed a week before Season 6 had even started up. This was rather unusual to say the least, seeing as how TV networks tend to wait until some time into the season before providing such confirmations for interested individuals. As a result, there were a fair number of people who believed that the timing of the announcement suggested that something was up, with the speculation of an upcoming cancellation being one of the most popular theories. Now, that speculation has been confirmed. Season 7 of The 100 will indeed be the final season for the show. This might come as a serious blow for people who have become accustomed to the presence of The 100 on their TV screens. However, they should be able to take some measure of solace in the fact that said show will have received seven seasons in total by the time that it wraps up, which is no mean achievement for a TV show.
The Showrunner Hasn't Been Caught Offguard
In any case, it is worth mentioning that the cancellation of The 100 will not catch the showrunner Jason Rothenberg off-guard. After all, Rothenberg has stated that he has a clear idea of how he wants the show to come to a conclusion. Furthermore, Rothenberg stated that his idea was flexible enough that it could be used after a wide range of seasons with a wide range of stories. Considering the disaster shows that have sometimes been brought about because the people involved in making scripted shows were caught offguard by sudden changes, this is definitely something that should reassure interested individuals who are concerned about whether Season 7 of The 100 will be able to continue entertaining them in the same manner as its predecessors.
As for whether Rothenberg knew more exact information about when his show would be coming to a conclusion, that is unknown to us. In the past, he has stated that he didn't know exactly how long The 100 would turn out to be, which makes sense because it isn't that planned out but instead seems to be created to a considerable extent as it continues on. Still, it is difficult to imagine that Rothenberg didn't envision this potential outcome at all, considering how he has outright stated in the not so distant past that he didn't think that The 100 would be making it to Season 10.
The Showrunner Seems to Have Given the Go-ahead
For that matter, it should be mentioned that the channel has indicated that it was Rothenberg who indicated that he wanted to bring The 100 to a conclusion. Something that would make sense considering that The 100 has already done a great deal of narrative stretching over the course of its existence. Never mind the fact that The 100 has been doing well enough, meaning that the channel doesn't actually have a great deal of immediate incentive to cancel it. Regardless. no matter the exact details of what went down behind the scenes, it seems reasonable to say that the show remains in capable hands.
Further Considerations
Unfortunately, there isn't much information that has been released about what interested individuals can expect from the upcoming season of The 100. However, there are some things that can be extrapolated based on what has already come to pass.
For example, it seems safe to say that Season 7 won't be seeing the kind of huge transition that has happened between some of the other seasons. Instead, it will almost certainly focus on the issues that came up in Season 6, thus ensuring that the viewers will have their much-needed sense of closure for everything that has happened. Likewise, while we don't have anything even close to an air time for Season 7, the air times for its two preceding seasons suggests that it will be starting up sometime in April before continuing on until August unless something significant changes. Otherwise, much remains unknown, which in turn, means that much remains to be revealed. As such, interested individuals should make sure to continue paying attention to entertainment news so that they can catch the details of whatever is revealed about the upcoming season of The 100 as soon as it comes out.