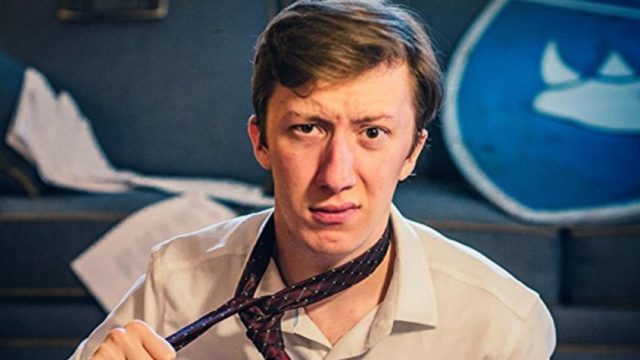 New York is the East Coast hotspot for up-and-coming new talent. The actor David W. Thompson is no exception. He made his film debut in 2011, in a dramedy called Win Win in which he played the character of Stemler. This movie garnered positive reviews from critics, and was generally well-received. Another role he is well-known for is as the radio host Tad in the 2015 indie horror Green Room. It was also got a lot of good reviews, and was even nominated for an Empire Award.
However, it ended up underperforming after its release — bringing home only $3.8 million when the budget had been $5 million. However, Thompson stood out in his portrayal of Tad, and it might have been directly related to the most recent David W. Thompson news. This actor just got one of his biggest breaks, as he was recently cast as the new Scarecrow on Gotham, a hit show on Fox. If you're considering checking out this show this year, you might want to know a little bit more about this actor. If that's the case, read on to learn Five Things You Didn't Know about David W. Thompson.
He Started Out in Middle School
His very first audition, and subsequently first role, were in a middle school theatrical production. He found that he loved to act, and moved on to a few more school productions. He eventually scored some roles in local theatre, and excelled in every one of them. Finally, he moved on to auditioning for student films in New York City, which is where his career really began to come together.
He Has a Penchant for Stand-Up Comedy
This actor is not only good at memorizing lines and delivering a great performance on the screen. He is also a professional at pandering to an audience — especially in situations where he needs quick wit and on-his-feet thinking to bring humor to a large crowd. He truly loves to perform stand-up, and it is evident in his stage presence and performance. On a related note, he played on Fox's Shortcoms Comedy Hour when it was still playing on the network.
He Studied Acting Extensively
David W. Thompson has put a lot of effort into learning how to act. He spent a few years studying several disciplines, including basic acting, comedy, improvisation, and the Meisner method. He also participated in the Circle in the Square school. All of his work towards learning the theory of acting probably helped him get to where he is today.
He is Athletic
This actor isn't solely invested in the arts. He is also a fan of wrestling — and would be an intimidating opponent at six feet tall. In addition, he has a love for (and a talent for) skateboarding. His athletic abilities definitely provide a venue through which he can relieve stress. Being an actor can be one of the most mentally-exhausting jobs on the planet.
He Plays the Drums
There may come a day when we listen to David W. Thompson keep a rhythm on a song that he recorded himself. He hasn't yet released any official recordings, but it is known that he is a fan of playing the drums. Of course, with Gotham coming up, it isn't likely that we are going to see any musical ventures from Thompson. But we can dream, can't we?