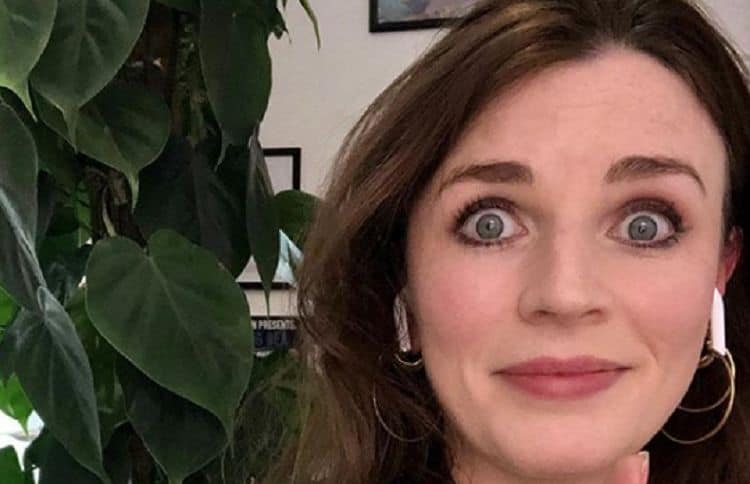 Aisling Bea's career has been nothing short of stellar. Since abandoning her dream of becoming a straight actor to concentrate on a life in comedy, she's gone from strength to strength, appearing regularly on some of Britain's biggest panel shows and, as of October 2019, starring in Netflix's newest big hitter, Living With Yourself. The darkly surreal comedy, which also stars Paul Rudd, is set to transform Aisling from a British entertainer into an international sensation. Find out more with these ten fast facts.
1. Her father took his own life
Aisling was born in a small village in rural County Kildare in Ireland. She was raised by her mother, a secondary school teacher and former professional jockey, after her father died when she was three years old. It wasn't until years later that Aisling found out her father had actually taken his own life. Her mother explained she'd kept the nature of his death secret for years as she didn't think either Aisling or her younger sister Sinead were ready to hear the truth. The situation was further complicated by the fact suicide was at the time illegal in Ireland, and only became decriminalized two years after her father's death.
2. She dreamed of becoming a serious actress
Aisling obtained her high school education at a catholic convent school before studying French and philosophy at Trinity College Dublin. After graduating, she studied acting at the London Academy of Music and Dramatic Art. She then spent two years unsuccessfully auditioning for work as a serious actress- after finding she was cast more for comedies than she was for dramas (with Cardinal Burns and Dead Boss being two examples in point), she decided to give standup comedy a try in 2011.
3. She's won several awards
Within just a couple of years of launching herself as a comic, Aisling was nominated for two awards that not only proved she'd made the right choice in giving up straight acting for a career in comedy, but also gave her enough exposure to take things to the next level. In 2012, her performance at the Edinburgh Fringe Festival earned her the Gilded Balloon So You Think You're Funny award. A year later, she was nominated for the Best Newcomer at the Edinburgh Comedy Award for her one-woman show, C'est La Aisling. She's since picked up numerous other awards, including the British Comedy Award for Best Female TV Comic in 2014.
4. She's a regular on panel shows
UK panel shows have been roundly criticized for their traditionally male-dominated guest lists for years. Aisling, however, has managed to well and truly break that glass ceiling. She began appearing on shows such as QI and Insert Name Here in the early part of the decade, but cemented her status as the reigning queen of panel shows when she became a team captain on the popular Channel 4 TV quiz show, 8 Out of 10 Cats, in 2016. She's also written and hosted her own chat come panel show, What's Normal, on Radio 2.
5. She's combined straight acting with comedies
Despite seeing her stand up career take off during the early years of the decade, Aisling has never given up on acting and has continued to appear in some of the biggest British comedies and sitcoms of the last few years. Credits include In with the Flynns (2012), Trivia (2012), Soul Sacrifice (2013), and Funny Valentines (2015). She's also landed a few serious acting gigs, most notably in The Fall (2016), and Hard Sun (2018).
6. She's moved into writing
Aisling has been writing her own stand-up material for years, so moving into scripted material was an almost inevitable next step. In 2019, she wrote and starred in This Way Up, a comedy series set in London that revolved around a young Irish teacher who suffers a nervous breakdown. Along with Aisling, the series stars fellow comedic actress Sharon Hogan (who also produces the show) as Aisling's older sister, Shona. The show was warmly received by critics, with Rotten Tomatoes summing up the general consensus with the praise "Hilarious, and surprisingly light, This Way Up captures the complexities of mental health with an empathetic eye."
7. She's campaigned to decriminalize abortion
Aisling has proven to have a talent for lending her voice to successful campaigns. In addition to vocalizing her support for the Repeal the 8th campaign (which proved successful in overturning the previous ban on abortion during the 2018 Irish referendum), she was also a vocal campaigner for same-sex marriage prior to the successful 2015 referendum in Ireland.
8. Her favorite philosopher is Alain de Botton
Having studied French and philosophy at university, Aisling knows a thing or two about deep thinkers. Her favorite, at least according to an interview with the Guardian, is Alain de Botton. "Everyone loves a bit of Jean-Paul Sartre," she said, "I am a bit more into practical philosophy. I love Alain de Botton, and listen to his little School of Life videos on YouTube."
9. She listens to Beyoncé at least 18 times a day
There's being a fan of Beyoncé, and then there's listening to her 18 times a day… despite being completely obsessed with the iconic R+B singer, Aisling listened to a very different kind of music growing up, as she mentioned during an interview with The Evening Standard. "I listen to Beyoncé's Homecoming album 18 times a day. We had one tape growing up… Neil [Young], Harvest Moon."
10. She dated Michael Sheen
When actor Michael Sheen's 4-year relationship with Sarah Silverman ended in 2017, he swiftly found consolation in the arms of Aisling. The couple first sent the gossip mills into overdrive when they attended the Olivier Awards together in April 2018, before going on to make their romance official later that year. By early 2019, however, the relationship had ended, and Sheen has since had a baby with his new girlfriend, Swedish actress Anna Lundberg.