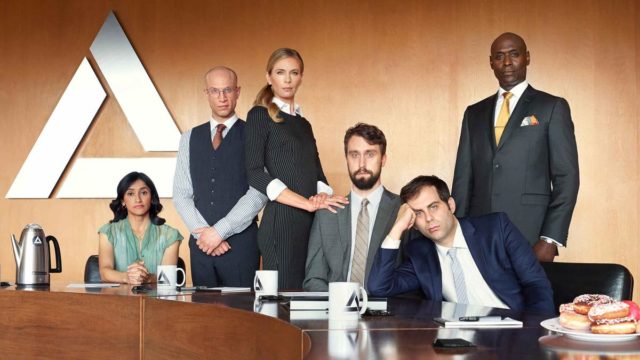 You've probably seen the ads. Hampton DeVille claims to be a corporation that pretty much has its hands in every consumer product. The company is actually a fictional corporation in the new Comedy Central series "Corporate". Comedy Central has spared no expense promoting this comedy about two hapless junior executives trying to advance their positions in the heartless corporate world. The satirical show is sure to provide plenty of laughs as the main characters navigate their jobs. "Corporate premiers January 17 at 10 pm. It will also be available to stream through cc.com and the Comedy Central App.
Here are 5 things you didn't know about "Corporate".
Promotion
Comedy Central is known for its promotion of new television series. The cable network has spared no expense promoting its sure to be a hit new series "Corporate". For several weeks "Corporate" has subtly crept into our lives. Advertisements on billboards, social media and even in movie theaters have introduced us to the company called Hampton DeVille. The corporation is involved in just about every type of consumer product including technology, medicine, agriculture, entertainment and weapons. The company may be involved in even creating humans. The company tagline is "We don't make anything. We make everything." We are beginning to get used to the ominous Hampton DeVille logo, a black triangle, in the faux ads. Comedy Central even has a dedicated website for Hampton DeVille.
Creators
Matt Ingrebretson and Jake Weisman are the geniuses behind "Corporate". The show's creators and co-writers use their life experience in the corporate world mixed with satire and comedy to portray life in a corporate setting. Matt and Jake play the roles of Matt and Jake. The two young men are junior executives trying to survive and advance their careers in a soulless corporation. They are assigned with crazy tasks as they survive in the mundane world of a high powered corporation. The two men must navigate assignments like firing a co-worker, securing a weapons contract and attending office birthday celebrations.
Cast
Matt Ingrebretson is a comedian, actor and writer known for his social media presence. He has had roles in "What a Nice Party" and "I'd Love You to See Me Dance". Jake Weisman has also had a strong social media presence showcasing his writing and acting skills. He began acting in plays and became involved in Independent Film writing at a young age. Lance Reddick of "The Wire" plays high strung CEO Christian. Adam Lustick of "Adam Ruins Everything" and Anne Dudek of "Mad Men" and "House" play conniving executives John and Kate who interfere with Matt and Jake. Comedian Aperna Nancherla plays Grace, Hampton DeVille's Human Resources Representative who is Matt and Jake's beleaguered ally.
What to expect
In the first few episodes of "Corporate" we can expect to get a feel the hoops that Matt and Jake must go through as they struggle as junior executives working for the image conscious yet soulless Hampton DeVille. In the premier episode Matt and Jake are assigned to fire an employee who sent an insensitive tweet on the company account. They use birthday cake from an office party to save the fired employee from killing himself. We will see Matt and Jake try to help the company land a weapons account and Matt and Jake struggling to find the impossible work-life balance. We'll also see Jake become jealous when the company brings in a caustic street artist named Trademarq who befriends Jake's buddy Matt.
Appeal
"Corporate" may be a hit for Comedy Central. The cable network has had a series of funny shows that appeal to all generations. "Corporate's" smart dark satire of the corporate world is sure to resonate with many, especially millennials who are navigating the corporate world as young adults. Anyone who has worked in an office setting can relate to the environment where some employees will stop at nothing to advance their careers and some just live for the next office birthday celebration. "Corporate" seems to be on the right track showing what it's like to work for a multi-national company while surviving the day to day mundane office life.