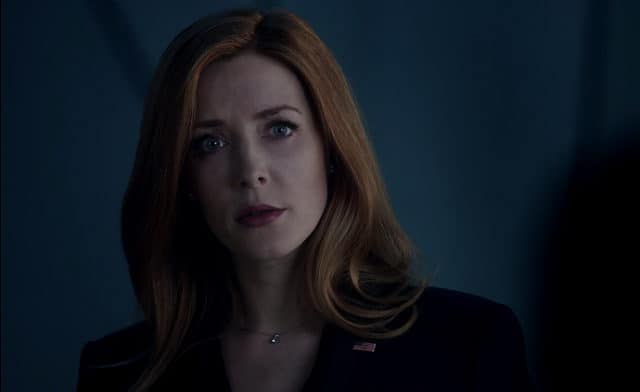 Salvation: Coup de Grace was definitely not about a mercy killing. After viewing it one of things that came to mind was King Lear. No, I'm not saying Salvation is Shakespeare, but the number of conspiracies and players certainly fit! I mean, if you saw the episode, doesn't this remind you of it?
Love cools off, friendships break up, and brothers become enemies. Riots, mutinies, in countries discord, in palaces treason, and the bond cracked 'twixt son and father. – Gloucester in King Lear
Yep, there's a whole lot of King Lear level lying and backstabbing going on. What an inebriated Liam Cole (Charlie Rowe) tells his estranged girlfriend Jillian Hayes (Jacqueline Byers) is true. In Salvation: Coup de Grace, "everything bad" happens. It is definitely, "a bad, bad, day."
Bad Girl Dreams
CBS's Salvation: Coup de Grace opening was hot! Didn't they realize they needed a commercial break after it so viewers could go take a cold shower?!
Did you realize it was a dream before Harris Edwards (Ian Anthony Dale) came into the picture? In a rewatch all the signs are there that it is, but when I first saw it – nope. It was totally believable she'd gone to make out with Darius Tanz (Santiago Cabrera) after the success of the EM-drive!
There's another thing that didn't register until my second viewing. What's this about they, "stopped in Moscow"? There's a bit of a revision. Granted, their clothes were definitely on when they were curled up on the couch together, but it's network television. The way they were acting it sure didn't feel like they stopped!
Darn it! I guess Grace felt guilty about Harris then – just she did in her dream. Wait until she finds out Harris totally cheated. Between the way he treated Grace when she got back, the things he's been involved with, and the fact he banged the barmaid, she needs to end it with him. Let's hope their romance is officially dead soon!
Real World Nightmares
If only that dream was the most upsetting thing that happened to Grace that day. First, she and Darius ended up witnessing that President Mackenzie (Tovah Feldshuh) really was having mental issues. Then she's told that because of their visit to the President, the President decided to go public about project Atlas and that giant asteroid Sampson.
This news led to a fight between her and Harris because the advisor to the president, Claire Rayburn (Erica Luttrell) blamed her and Darius for the president's decision. The argument ended with Grace storming off to tell her daughter Zoe (Rachel Drance) about the giant asteroid speeding towards earth. She wanted to do so before Zoe heard it on the news that night.
Trying to go tell Zoe got Grace a whole new problem. She found out Zoe had been lying to her about going to work.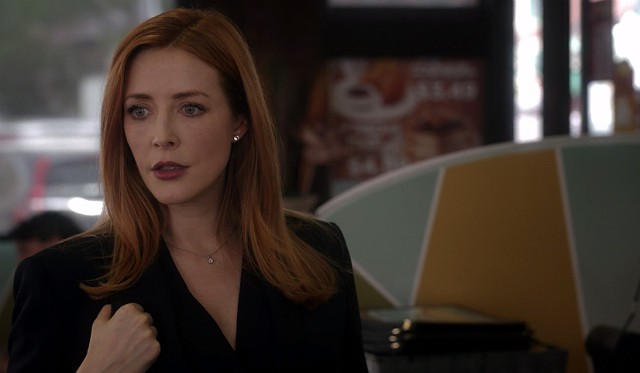 The why Zoe had been lying was even worse news! Grace tracked down Zoe and found her in an SUV making out with Harris's son Dylan (André Dae Kim)! On top of that, Zoe wouldn't even talk to Grace. Screaming that she was done with her mother "lies" she ordered Dylan to drive off!
(Teenagers. They do tend to be convinced they know everything and have all the answers. A) No one has all the answers. B) More often than not they are asking the wrong questions. I've no doubt Dylan and Zoe have jumped to some incorrect conclusions that are going to cost them – and the world – dearly.)
It's The End of The World As We Know It?
If all of that weren't bad enough, when Grace goes to see Darius to give him the news, she finds Liam first. He tells her that Claire and General Randall Calhoun (Brian Markinson) apparently lied about the purpose of the gravity tractor. The coordinates given to them for the EM-drive will crash it and the gravity tractor into Sampson. Worse, once again, the projected trajectory of the broken pieces will likely all hit Russia! It's a huge double-cross because they have been locked out of being able to adjust the trajectory of the gravity tractor.
Meanwhile, this gravity tractor news is just another piece in what's turning into one of the worse days of Darius's life. His uncle, Nicholas Tanz (John Noble), has bought out one of Darius's board members. Now Nicholas is having the board vote him out.
The way Nicholas is convincing the board is by using the missing billion dollars used on the secret EM-drive from the government as a reason for a no confidence vote. He ends up being successful because Darius feels bound to keep Sampson a secret. Since he can't talk about Sampson, he can't explain what the money was used for. Therefore, it looks like Darius has wasted or stolen the money. Not even a plea from Tess (Autumn Reeser) – the newest board member via the stock her brother Lazlo (Aaron Poole) left her – helps.
(Remember, while the EM-Drive didn't appear to be a secret project at Tanz, the rocket Salvation absolutely is. That's likely what the second billion dollars went into…a second EM-Drive.)
The Coup de Grace
When Grace finally is able to talk to Darius, he's just been ousted as CEO of his own company. He doesn't take the news about the president well. If he'd known earlier he might have saved his company!
Unfortunately their conversation is interrupted by Tess, whom Grace knows was/is the love of his life and his one regret. He leaves Grace to go speak with Tess. Grace sees their intimacy level and disappears before Darius notices. (So, she doesn't know he sent Tess away.)
https://youtu.be/gI3paXjSPNQ
Considering the above sequence of events maybe they should have called this episode "Coup de Graces." All of the above certainly felt like final blows!
Next Up: The real coup, what's up with Liam & Jillian, and who might be some hidden bad guys!